Study Suggests AliveCor KardiaBand for Apple Watch Can Be Used With AI Algorithm to Detect High Potassium
AliveCor, the company that makes an FDA-approved EKG band for the Apple Watch called KardiaBand, teamed up with the Mayo Clinic for a new study that suggests an AliveCor EKG device paired with artificial intelligence technology can non-invasively detect high levels of potassium in the blood.
A second study conducted by the Cleveland Clinic also confirms the KardiaBand's ability to accurately detect atrial fibrillation.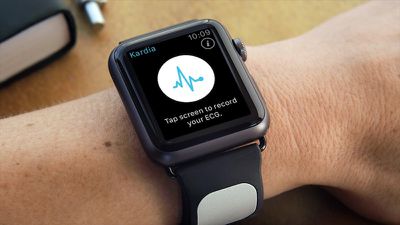 AliveCor's KardiaBand
For the potassium study, AliveCor used more than 2 million EKGs from the Mayo Clinic from 1994 to 2017 paired with four million serum potassium values and data from an AliveCor smartphone EKG device to create an algorithm that can successfully detect hyperkalemia, aka high potassium, with a sensitivity range between 91 and 94 percent.
High potassium in the blood is a sign of several concerning health conditions, like congestive heart failure, chronic kidney disease, and diabetes, and it can also be detected due to the medications used to treat these conditions. According to AliveCor, hyperkalemia is associated with "significant mortality and arrhythmic risk," but because it's typically asymptomatic, it often goes undetected.
Currently, the only way to test for high potassium levels is through a blood test, which AliveCor is aiming to change with the new non-invasive monitoring functionality.
AliveCor says that the AI technology used in the study could be commercialized through the KardiaBand for Apple Watch to allow patients to better monitor their health. Vic Gundotra, AliveCor CEO, said that the company is "on the path to change the way hyperkalemia can be detected" using products like the Apple Watch.
For the Cleveland Clinic study, cardiologists aimed to determine whether KardiaBand for Apple Watch could differentiate between atrial fibrillation and a normal heart rhythm. The researchers discovered that the KardiaBand was able to successfully detect Afib at an accuracy level comparable to physicians interpreting the same EKGs. The Kardia algorithm was able to correctly interpret atrial fibrillation with 93 percent sensitivity and 94 percent specificity. Sensitivity increased to 99 percent with a physician review of the KardiaBand recordings.
KardiaBand, which has been available since late last year, is available for purchase from AliveCor or from Amazon.com for $199. Using the KardiaBand also requires a subscription to the AliveCor premium service, priced at $99 per year.
AliveCor premium paired with the KardiaBand offers SmartRhythm notifications, unlimited EKG readings, detection of atrial fibrillation or normal sinus rhythm, and unlimited cloud history and reporting of all EKGs.