Quick Takes: Audiophile Calls AirPods Best Truly Wireless Earbuds He's Ever Heard in Year-Later Review
In addition to our standalone articles covering the latest Apple news and rumors at MacRumors, this Quick Takes column provides a bite-sized recap of other headlines about Apple and its competitors on weekdays.

Monday, March 19
Highlights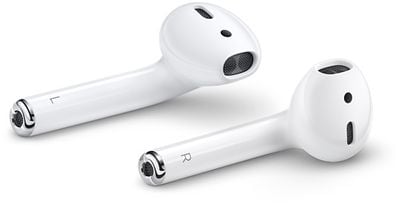 1. AirPods: the audiophile review: The Verge's Vlad Savov finally got around to testing a pair of AirPods, over a year after they launched, and now understands why so many people are fans of Apple's wireless earphones. Once dismissive of them, he now thinks AirPods are the best truly wireless earbuds he's heard.
I say the AirPods aren't technically amazing, but that's only when comparing against existing standards for sound quality. In the category of truly wireless earbuds, the AirPods are the best I've yet heard. Bragi's The Headphone and Dash Pro left me underwhelmed, with the latter being especially bloated and disfigured by an overabundance of bass.
Commentary: AirPods are easily one of Apple's best new products in the past few years. They're easy to set up, easy to use, easy to carry around, and more than likely sound "good enough" for the majority of customers.
2. The case for an ePad: Drawing inspiration from the education-only eMac, released in 2002, 512 Pixels' Stephen Hackett envisions what an education-only iPad or so-called "ePad" could be. His suggestions include a more rugged design, Apple Pencil and external keyboard support, and more competitive pricing.


3. HQ Trivia had a weird night: The smartphone-based live trivia show offered a winner-takes-all $25,000 prize on Sunday night, but the would-be winner was ejected from the game for violating the rules, according to HQ. The company hasn't explained what the rule-breaking behavior was.
Then, on early Monday, HQ Trivia was briefly removed from the App Store. TechCrunch confirmed that the game was briefly unavailable due to an unrelated clerical error. More specifically, someone forgot to update HQ Trivia's expired credit card info in Apple's developer portal, according to the report.
HQ moderators kick players that violate HQ's Terms of Service and Contest Rules. For more information, please refer to our Terms of Service here: https://t.co/septsPVgOm — HQ Trivia (@hqtrivia) March 19, 2018
Commentary: It sounds like HQ Trivia caught a cheater on its hands, but we may never know for sure. The good news is that the amount now rolls over, meaning next Sunday's winner-takes-all prize will be $50,000, its largest jackpot ever. The game is scheduled to begin at 9:00 p.m. Eastern Time.
Other Links

For more Apple news and rumors coverage, visit our Front Page, Mac Blog, and iOS Blog. Also visit our forums to join in the discussion.