Steve Jobs Employment Questionnaire Sold for $174,757 at Auction
A rare employment questionnaire filled out by former Apple CEO Steve Jobs was auctioned off last week, earning an impressive $174,757.
Jobs filled out the questionnaire in 1973, just after dropping out of Reed College, where he attended school for approximately six months and then audited classes for another year and a half.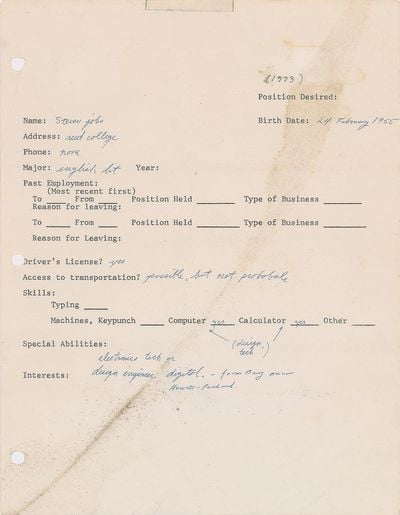 The document provided a rare look into Jobs' life at the time, with Jobs listing "english lit" as his major and Reed College as his address. "Computer" and "Calculator" were listed as skills, along with "Design" and "Tech," and Jobs said that he had special abilities that include "Electronics" and digital "Tech or Design Engineer."
Soon after filling out the employment questionnaire, Jobs took a position as a technician at Atari after showing the company a version of Pong designed by Steve Wozniak. Just two years later, Jobs, Wozniak, and Ronald Wayne founded Apple Computer in Jobs' now iconic garage.
Ahead of the auction, the auction site believed the questionnaire would fetch over $50,000, but it ended up tripling that estimate.


A separate auction for an Mac OS X technical manual signed by Jobs in 2001 also brought in $41,806, while a signed newspaper clipping that Jobs signed sold for $26,950.