Employment Questionnaire and Two Signatures From Steve Jobs Going Up for Auction
An auction site is set to sell off three pieces of Steve Jobs memorabilia, including a rare employment questionnaire filled out by the former Apple CEO.
Jobs filled out the application in 1973, just after dropping out of Reed College, where he attended school for approximately six months and then audited classes for another year and a half.
On the document, Jobs lists "english lit" as his major, and Reed College as his address. He lists "Computer" and "Calculator" as skills, along with "Design" and "Tech," and says that he has special abilities that include "Electronics" and digital "Tech or Design Engineer."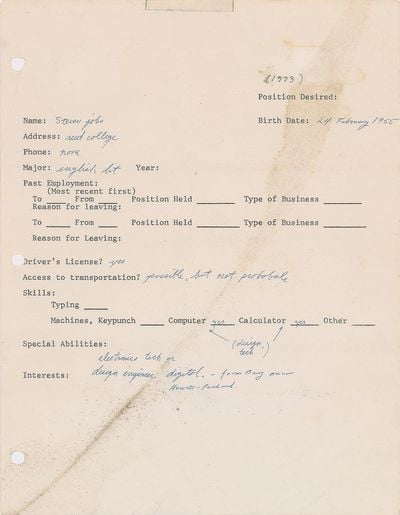 Auction site RR Auction expects the questionnaire to fetch upwards of $50,000 at auction.
Along with the questionnaire, the site also plans to auction off two documents that feature a rare Steve Jobs signature. The first is a Mac OS X technical manual that Jobs signed back in 2001, and there's a short story that goes along with the signature, obtained in a parking lot following an Apple training session in Cupertino.

"It was afternoon, the end of my training day and I just got into my car when I saw Mr. Steve Jobs walking into his car. I rolled down my window and called up his name. He asked me whether he knew me. I told him I certainly knew who he was and immediately asked him if he would be kind enough to sign my Mac OS X Administration technical manual. He refused and said 'I feel weird doing that.' I refused to back down. After a bit of cajoling on my part, he finally told me to hand over the manual and pen. He said 'give me those' and he autographed my manual," in a letter of provenance from the consignor.
The signed manual is expected to go for approximately $25,000 when it's placed up for auction, and it's being compared to a signed magazine cover that sold for $50,000 back in October of 2017.
The third document is a newspaper clipping from 2008, which features an image of Steve Jobs speaking at the Worldwide Developers Conference where the iPhone 3G was introduced. Jobs signed the newspaper at the Fraiche Yogurt shop in Palo Alto, California where he was eating frozen yogurt with Tony Fadell, who also signed the document.

Steve politely declined several times, stating that everything at Apple was a group effort, so he didn't like to sign and take credit for everything. My mom is pretty persuasive and was eventually able to convince Steve to sign; but under Steve's condition that the person sitting with him would have to sign it as well. That friend turned out to be Tony Fadell, known as the Father of the iPod, who was working at Apple during that time and instrumental in the design and development of the first iPod which later morphed into the iPhone.
The signature on the newspaper is expected to fetch somewhere around $15,000 when it is auctioned off.
The three Steve Jobs auctions will kick off on March 8 and will end on March 15 at RR Auction.