Apple Did Pull Calendar App That Mined Cryptocurrency From Mac App Store, Citing Excessive Use of Device Resources
Yesterday, it was discovered that a Mac App Store app called Calendar 2 had implemented a cryptocurrency mining feature that users could elect to use to unlock in-app features rather than paying cash, raising questions about whether Apple planned to allow such apps in the Mac App Store.
Calendar 2 was mining a digital coin known as Monero, and initially, Apple was slow to respond to questions from Ars Technica about whether or not such a feature was permissible, resulting in the app staying in the Mac App Store for a good 24 hours after Apple knew of its existence. Shortly after widespread media reports about the cryptocurrency mining feature circulated the app disappeared from the Mac App Store, but at the time, it was not clear if it was Apple that removed the app or the app's developer.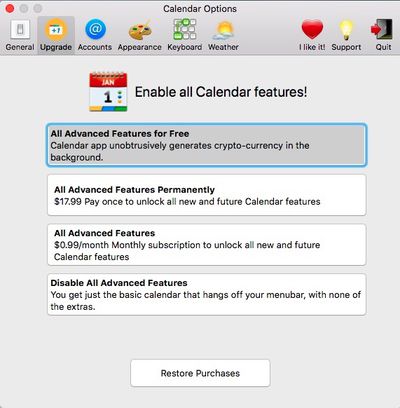 As it turns out, the app was indeed pulled by Apple. According to Greg Magarshak, CEO of Qbix, the company behind the Calendar 2 app, Apple removed the app from the Mac App Store for violating rule 2.4.2, which states that apps should not put an unnecessary strain on device resources.
Design your app to use power efficiently. Apps should not rapidly drain battery, generate excessive heat, or put unnecessary strain on device resources.
The Calendar 2 app was supposed to be using currency mining as an opt-in feature, but it was riddled with bugs causing the mining feature to use excessive resources and run regardless of whether or not users opted in, which is what drew so much attention to it. Just before the app was pulled from the Mac App Store by Apple, Magarshak promised to remove the feature from future versions of Calendar 2 because of these issues.
As of today, the Calendar 2 app is back in the Mac App Store. Magarshak said on Twitter that he worked with Apple to get a new version of the app released that has no mining features. As an apology for the snafu, all Calendar 2 users, new and old, will be provided with upgraded features for free for a year following the app's next update. Calendar 2 uses should update immediately as the older version of the app continues to include the miner.
1st of all lets give credit where due: an hour after we updated Ars about removing the mining feature, Apple removed our app citing 2.4.2 &worked w us to put it back on the store. New release has NO mining and we are giving all old&new Calendar users ALL features free for a YEAR. — Qbix Apps (@QbixApps) March 13, 2018
Magarshak tells
MacRumors
that Calendar 2 brought in approximately $2,000 from mining Monero, and the company says the funds will be used "towards improving features for our users going forward."
Though the cryptocurrency mining feature made it past Apple's review team and into the Mac App Store, it appears that based on Apple's response and the rule violation cited, Apple will not be letting Mac App Store apps use background cryptocurrency mining as a way to unlock premium features within apps.