Quick Takes: PGA TOUR Gets Augmented, Interview With HQ Trivia's $25,000 Winner, and More
In addition to our standalone articles covering the latest Apple news and rumors at MacRumors, this Quick Takes column provides a bite-sized recap of other headlines about Apple and its competitors on weekdays.

Monday, March 12
- PGA TOUR introduces augmented reality app: PGA TOUR AR uses Apple's ARKit platform on iOS 11 to project 3D models of featured holes on any flat surface. Fans will be able to select their favorite player on the golf course, compare shot trails from each round, and compare the shots of different players.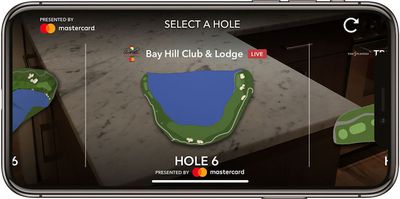 The first featured hole will be No. 6 at the Arnold Palmer Invitational starting March 15, while shot trails can be reviewed from the seventh hole of last month's AT&T Pebble Beach Pro-Am tournament. The end goal is for at least one hole to be featured at every tournament on the PGA TOUR schedule.
Commentary: PGA TOUR AR is free on the App Store for iPhone 7 and iPhone 7 Plus, iPhone 8 and iPhone 8 Plus, iPhone X, and iPad Pro models. The app is somewhat rudimentary at launch, but an update later this year will enable fans to view 3D shot trails for selected players at live golf tournaments.
- Apple Bluewater re-opens Saturday, March 24, according to a photo shared yesterday by Joe White on Twitter: The store has been closed for nearly eight months to allow for renovations to be completed. Apple Bluewater is located in Greenhithe, Kent, on the edge of Greater London in England.
-
Canada to initiate mobile emergency alerts on April 6
: iPhones and other LTE-enabled smartphones in Canada will receive
emergency alerts from the government
about life-threatening situations, such as tornadoes, flash floods, and child abductions, when necessary. On an iPhone, these will appear in the form of a push notification at no cost to the user. There is currently no way to opt out.


Commentary: This long-overdue feature, already in place in the United States, should greatly extend the visibility of emergency alerts beyond TV and radio in Canada. Test alerts, to be identified as such, are scheduled to begin in May.
Other Reading:
For more Apple news and rumors coverage, visit our Front Page, Mac Blog, and iOS Blog. Also visit our forums to join in the discussion.