Smart Speaker Survey States iPhone Owners 22 Percent More Likely to Buy Speakers, Favor Amazon Over Google
In January, Voicebot.ai surveyed 1,057 Americans over the age of 18 regarding their ownership or interest in smart speakers, and today the researchers have published their final report with the results. While the data precedes Apple's entry into the market with HomePod in February, it does include a few points of data regarding iPhone/iOS users and their interest in smart speakers, prevalent long before rumblings about Apple's HomePod began.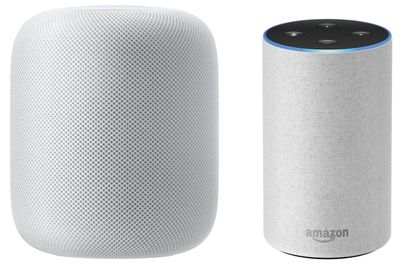 Specifically, the Smart Speaker Consumer Adoption Report states that iPhone owners are 22 percent more likely to own a smart speaker compared to non-Apple smartphone owners. Of the smart speakers on the market besides HomePod, iPhone users are 30 percent less likely to own a Google Home and favor devices like Amazon Echo.

Graphs via Voicebot.ai
In fact, Voicebot.ai argued that Apple and Amazon are likely companions in "multi-manufacturer households," where HomePod is purchased as a "luxury item for music listening" and Echo is used for more "utilitarian tasks."
iOS users are attractive consumers and far more likely to own a smart speaker overall, but far less likely to own a Google device. However, the data also suggests that Google is at less risk of losing share to Apple HomePod than Amazon. Apple and Amazon may be the focus of multi-manufacturer households where HomePod is a luxury item for music listening in living spaces while Echo products get placed in the kitchen and bedrooms for utilitarian tasks.

In addition, iPhone owners are a good fit for Amazon because they are far more likely to have made a purchase by voice and more likely the 30,000 Alexa skills offered to Echo users. The favoritism shown by Apple owners to Alexa devices may also appeal to developers. Historically, iPhone app users have been far more valuable to developers on a revenue basis than Android users.
The report has many other interesting tidbits of information, stating that about 19.7 percent of adults in the United States use smart speakers, while 47.3 million have access to one of these devices. This means that they live in a home with a smart speaker, but may not be the primary owner -- a necessary distinction for the survey as smart speakers are "communal devices" used by entire households, unlike a smartphone with one user.
Many consumers own an average of 1.8 smart speakers, most place them in their living room (45.9 percent of owners) or kitchen (41.4 percent), and Amazon remains the dominant player in the market with a 3.5 times larger install base than Google. All of this growth surprised many analysts, particularly compared to growth rates of other product categories.

How does the march to nearly 50 million smart speaker consumers in 3 years compared to growth rates of other communications channels? Television took 13 years, the internet four years, and Facebook just two years. Smart speakers are devices but are growing almost as quickly as social media apps."
Among the most popular use cases, questions, music, and weather commands remain at the top. In total, the researchers said that this data provides the best indication that smart speakers are "being incorporated into everyday lives of consumers," with 63 percent using them daily and 77 percent at least weekly.


For those who don't own a smart speaker, 37.9 percent stated disinterest as their reason, 21.2 percent said they get enough similar features from their smartphone, 16 percent referenced privacy concerns, 11.8 percent said they plan to purchase soon, 8.8 percent claimed they were too expensive, and 4.2 referenced other reasons. For future owners, 9.8 percent expect to make a purchase in 2018, 26 percent of which said they will be purchasing Apple's HomePod.