Washington this week
became the first state
to pass a new law --
House Bill 2282
-- that restores and protects certain net neutrality rules, after the Federal Communications Commission
voted 3-2 in favor of repealing
net neutrality nationwide late last year. Washington state's new rules were signed into law by Governor Jay Inslee yesterday, and prevent internet service providers from blocking and slowing down content online (via
The New York Times
).
Many
multi-state lawsuits
began cropping up following the net neutrality vote in December, but this marks the first time that a state has directly gone against the FCC and enacted its own regulations on how ISPs are regulated within the state. Now, the Washington state law will go into effect starting June 6, 2018, barring ISPs from blocking websites, throttling speeds, or charging its customers more for faster speeds on select sites "in a way that benefits the broadband company and partner websites."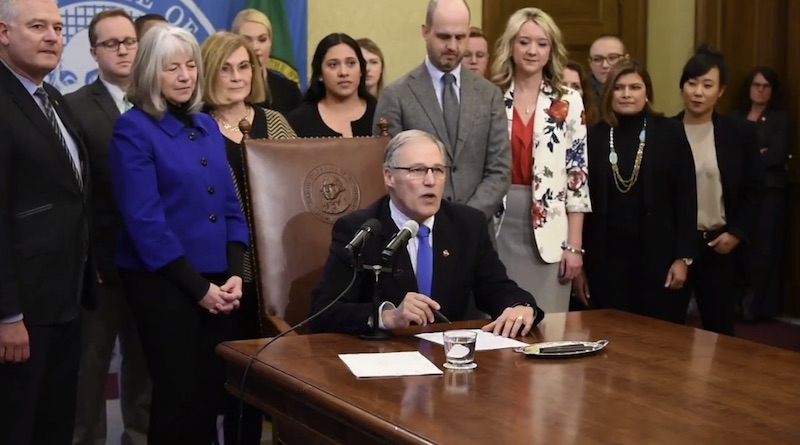 Today we make history: Washington will be the first state in the nation
to preserve the open internet with our own #NetNeutrality law. The open internet lives on for Washingtonians. pic.twitter.com/3wsmAycWLN

— Governor Jay Inslee (@GovInslee) March 6, 2018
These actions are now technically legal under the repeal of net neutrality by the FCC, made official by its
entry into the Federal Register
in February and becoming nationwide law itself April 23, 2018. The law signed by Inslee is said to "immediately" put back into place consumer protections provided by net neutrality rules, and was "passed with broad bipartisan support in the state legislature."
"Today we make history: Washington will be the first state in the nation to preserve the open internet," Inslee said during today's bill signing ceremony. "We've seen the power of an open internet. It allows a student in Washington to connect with researchers all around the world — or a small business to compete in the global marketplace. It's allowed the free flow of information and ideas in one of the greatest demonstrations of free speech in our history."
Besides Washington state, lawsuits and movements against the FCC have appeared in nearly two dozen states, with bills in each appearing similar to the one signed by Governor Inslee this week. Washington state's law -- and any others that appear in the future -- are expected to end up in court, because part of the FCC's rules passed under the repeal of net neutrality explicitly mentioned that states could not create their own rules.
Various tech companies also joined together in a lawsuit against the FCC filed on Monday, with Etsy, Foursquare, and Kickstarter among the companies banning together to fight the net neutrality repeal. Before the 3-2 vote in December, Apple was vocal against the potential repeal of net neutrality, emphasizing its stance in a letter
last August
that urged the FCC not to roll back the rules. Apple said this repeal could risk "fundamentally altering the internet as we know it today—to the detriment of consumers, competition, and innovation."
Note: Due to the political nature of the discussion regarding this topic, the discussion thread is located in our
Politics, Religion, Social Issues
forum. All forum members and site visitors are welcome to read and follow the thread, but posting is limited to forum members with at least 100 posts.