Late last year, Dialog Semiconductor admitted that Apple could build its own power management chips for future iPhones, and no longer rely on the British-based chipmaker for such technology. This weekend, Dialog CEO Jalal Bagherli provided further details on this topic, now expecting Apple to use Dialog chips for "a significant proportion of its devices" in 2019 and 2020 (via Reuters).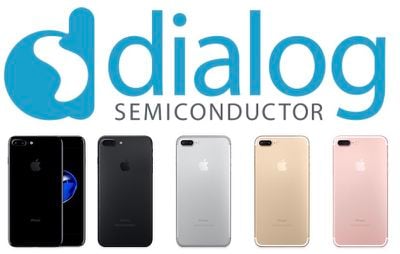 When Dialog admitted that Apple could be working on building its own chips, it said there was no risk to its existing supply deals for 2018, and that the company was already in advanced stages of working with Apple on designing "2019-style products" that could lead to commercial contracts by this month. In regards to the 2018 contract, Bagherli said, "Negotiations over that chip are still ongoing. But we expect to deliver a chip design for testing in the customer's system in the second half of the year."

"Apple at the start of the year commissioned us with the design of chips for many devices for 2019 and 2020," weekly Euro am Sonntag quoted Bagherli as saying in an interview published on Saturday, without providing details.
Over the past year, Dialog's stock is said to have lost "more than half of its value" on the sole concern of the company losing business from Apple. According to analysts, over 50 percent of Dialog's revenue comes from supplying Apple with power management integrated circuits -- a technology that many believe Apple now has the ability to create in-house.
Rumors of Apple developing its own power management chips began with a prediction by Bankhaus Lampe analyst Karsten Iltgen last spring, who said that Apple would at least cut back on Dialog's supply of the chips for future iPhones. Then, in November, Nikkei corroborated that prediction in a report that stated Apple would replace half of the main power management chips for iPhones with its own by 2019.
The same report claimed that Apple's chip will be "the most advanced in the industry," with processing abilities that allow future iPhones to "better monitor and control power consumption." If these rumors turn out to be true, Apple could transition to supply all of the power management chips for its iPhones in 2021 and beyond.
Apple has confirmed a similar shift in creating its own technology for the iPhone's graphics processing chips, ending a reliance on Imagination Technology's chips by 2019.