Tim Cook Says Apple is Always Focused on 'Products and People' Over Wall Street Expectations
Fast Company today published an interview with Tim Cook after naming Apple the world's most innovative company yesterday.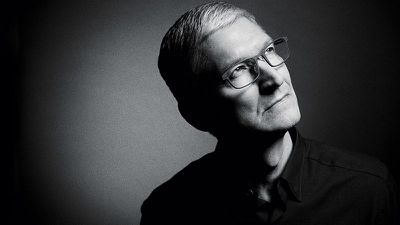 Image Credit: Fast Company/Ioulex Photography
Apple's CEO primarily reflected on the iPhone maker's culture and approach that has led to products such as the iPhone X, Apple Watch, AirPods, and HomePod, and as to be expected, he talked up the company he runs.
Cook said Apple's focus is always on "products and people," for example, rather than the company's earnings results or stock price.
Fast Company: What makes a good year for Apple? Is it the new hit products? The stock price?

Tim Cook: Stock price is a result, not an achievement by itself. For me, it's about products and people. Did we make the best product, and did we enrich people's lives? If you're doing both of those things–and obviously those things are incredibly connected because one leads to the other—then you have a good year.
Apple is "not in it for the money" with Apple Music, for instance, according to Cook, who says the streaming music service is more about ensuring that artists are funded in order to have a "great creative community."
Fast Company: Music has always been part of the Apple brand. Apple Music has had a lot of user growth, but streaming is not a major money­maker. Do you think about streaming as a potential stand-alone profit area, or is it important for other reasons?

Tim Cook: […] Music is a service that we think our users want us to provide. It's a service that we worry about the humanity being drained out of. We worry about it becoming a bits-and-bytes kind of world, instead of the art and craft.

You're right, we're not in it for the money. I think it's important for artists. If we're going to continue to have a great creative community, [artists] have to be funded.
He added that Apple is an "outlier" in the sense that Wall Street has "little to no effect" on the company—which is the world's most valuable.
Fast Company: Do the investment markets make innovation harder? Or does Wall Street motivate change?

Tim Cook: The truth is, it has little to no effect on us. But we are an outlier. More generally, if you look at America, the 90-day clock [measuring results by each fiscal quarter] is a negative. Why would you ever measure a business on 90 days when its investments are long term?
Cook said what drives Apple is creating products that "change the world for the better" with innovative new features.
Tim Cook: Take iPhone X, the portrait-lighting feature. This is something that you had to be a professional photographer with a certain setup to do in the past. Now, iPhone X is not a cheap product, but a lighting rig–these things were tens of thousands, hundreds of thousands of dollars.
He added that one of Apple's unique qualities is patience in perfecting its products, rather than rushing to be first to the market.
Fast Company: Sometimes Apple takes the lead, introducing unique features–Face ID, for instance. Other times you're okay to follow, as long as you deliver what you feel is better, like HomePod, which is not the first home speaker. How do you decide when it's okay to follow?

Tim Cook: I wouldn't say "follow." I wouldn't use that word because that implies we waited for somebody to see what they were doing. That's actually not what's happening. What's happening if you look under the sheets, which we probably don't let people do, is that we start projects years before they come out. You could take every one of our products–iPod, iPhone, iPad, Apple Watch–they weren't the first, but they were the first modern one, right?

In each case, if you look at when we started, I would guess that we started much before other people did, but we took our time to get it right. Because we don't believe in using our customers as a laboratory. What we have that I think is unique is patience. We have patience to wait until something is great before we ship it.
Cook's comments are similar to ones he has shared in the past, and the interview portrays Apple in the best possible way, but the full article is still a worthwhile read for those who want more perspective about the company's beliefs.