Parallels has released Parallels Toolbox 2.5 for Mac, bringing a handful of new features to the standalone application which aren't necessarily tied to virtualization. Essentially, the Toolbox places a drop-down menu in the Mac's menu bar, allowing users to do certain tasks more quickly. Tasks include the ability to record the screen, take screenshots, record audio, archive files, convert and download video, lock the screen, and more.
New one-click tools in this version include: a Screenshot Page function, which lets you capture and print lengthy web pages that don't fit on a single screen; a Free Memory tool for checking available RAM and quickly reclaiming memory; and a batch image resizing utility to convert multiple images to your desired file size and format.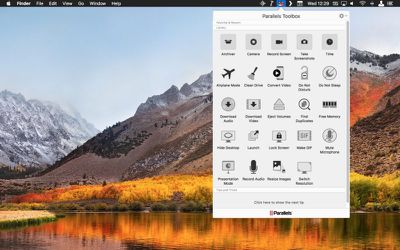 Elsewhere, Toolbox 2.5 includes enhancements to existing functions, such as Clean Drive live disk monitoring, extended Download Video and Record Video options, and new delay settings for Screen Capture. In addition to the above, Parallels has streamlined the video/photo capture and conversion process, and enhanced the presentation and screen sharing modes to make additional options available to the host user. This version also has Archive and Unarchive utilities bundled to improve workflows involving file compression.
Lastly, Parallels has announced Toolbox Business Edition, offering IT admins focused time-saving tools that aim to solve help tickets more efficiently, such as license and subscription management features, mass Toolbox deployment, and customizable Tool libraries for individual users.
Parallels Toolbox 2.5 for Mac is available at the Parallels website as a standalone product for $19.99 per year. Each annual license includes free updates of new and enhanced tools as they become available.