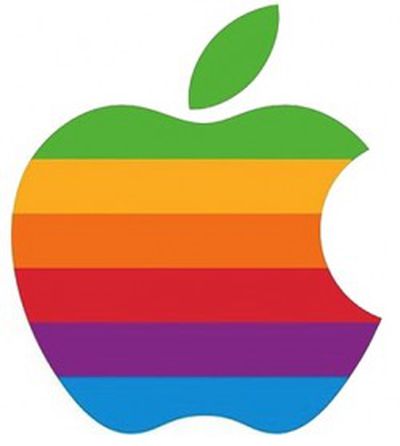 Apple has applied for a new U.S. trademark for its famous multicolor logo for use on apparel, reports The Blast. The Apple filing was processed in December by the U.S. Patent and Trademark Office's Trademark Reporting and Monitoring System (TRAM), and is now being considered for approval.
The description of the mark in the filing is of "an apple with a bite removed, with a detached leaf in green, and the apple divided into horizontal colored segments of the following colors (from top to bottom): green, yellow, orange, red, violet and blue".
According to the application, the logo will be used for headgear, namely, hats and caps. Apple already sells t-shirts with the same logo emblazoned on the front at its Apple Park Visitor Center, so the filing likely relates to a possible extension of the existing clothing line, although there's no saying whether Apple will actually use the trademark or just wants to protect it against unofficial use.
The classic multi-colored Apple logo was conceived by graphic designer Rob Janoff in 1977, but Steve Jobs axed the design when he returned to Apple in 1997 in favor of the monochromatic logo that continues to be used today.

Janoff's "rainbow Apple" was actually created as a more modern, albeit playful replacement for Apple's first logo, which was designed in 1976 by Apple co-founder Ron Wayne. Sometimes referred to as Apple's "fifth Beatle", Wayne famously sold his stake in the company two weeks after it was founded.
Wayne was a fan of the ornate line-drawing style of Victorian illustrated fiction, and used Sir Isaac Newton as the company's symbolic bellwether, an apple hanging precariously above his head. A quote from Wordsworth embellishes the baroque frame: "A mind forever voyaging through strange seas of thought, alone."