WWDC 2018 Dates Possibly June 4-8 at San Jose Convention Center
Apple has yet to announce dates for the 2018 edition of its annual Worldwide Developers Conference, but there's evidence to suggest the event may take place between Monday, June 4 and Friday, June 8 at the McEnery Convention Center in San Jose, California, the same venue where WWDC 2017 was hosted.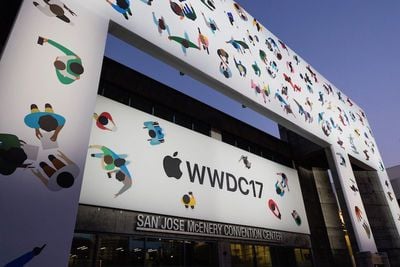 First, we've heard from a reliable source who says WWDC will in fact return to the McEnery Convention Center for the second consecutive year, after having been hosted at the Moscone Center in San Francisco between 2003 and 2016.
Next, we've discovered that the McEnery Convention Center is already booked with other events during the second, third, and fourth weeks of this June, leaving the first full week of the month as the only available window for WWDC 2018, barring the rare possibility that Apple shares the space with other events simultaneously.


- June 4-8: WWDC 2018 (?)
- June 11-14: O'Reilly Velocity Conference
- June 17-21: DataWorks Summit and Hadoop Summit
- June 26-28: Sensors Expo & Conference
WWDC has been a June affair since the 2000s, and it generally falls within the first half of the month, so June 4-8 is a very real possibility. We haven't confirmed the dates with Apple, however, so it might be a good idea to wait for the company to officially announce WWDC 2018 details before booking accommodations.
Apple revealed the dates for WWDC 2017 with a press release exactly one year ago today, which was a lot earlier than usual, likely because of the change in venue. Last year excluded, the announcement has generally been in April.
WWDC is where Apple unveils the latest versions of its software platforms, which should include iOS 12, macOS 10.14, and new versions of tvOS and watchOS this year. The opening keynote has sometimes included other big hardware and services announcements, such as iCloud in 2011, the first MacBook Pro with a Retina display in 2012, the current Mac Pro in 2013, and new iPad Pros in 2017.
WWDC 2017 hosted around 5,000 developers and 1,000 engineers. Given the San Jose Convention Center's closer proximity to Apple's headquarters in nearby Cupertino, more Apple engineers are able to attend since they don't need to take an entire day or week off of work to commute to San Francisco.
Tickets will likely cost around $1,599 and be distributed randomly through a lottery. Those interested in attending should make sure they are enrolled in the Apple Developer Program prior to Apple's official WWDC 2018 announcement to ensure eligibility, as this has been a requirement in years past.
Apple simply doesn't have enough room for everyone to attend WWDC, but it will likely provide a live stream of the opening keynote and share videos of developer sessions on its WWDC website, and through the WWDC app for iPhone, iPad, and Apple TV. MacRumors will also provide coverage of the event.
In addition to WWDC, a variety of other developer events should take place throughout the same week in San Jose, such as AltConf and Layers.