Consumer Reports: Google Home Max and Sonos One Sound Better Than HomePod
Consumer Reports has conducted some early audio testing of the HomePod, and while the full evaluation isn't yet finished, the site believes that both the $400 Google Home Max and the $200 Sonos One sound better than Apple's new $349 smart speaker.
The HomePod received a "Very Good" sound quality rating, as did the Sonos One and the Google Home Max, but the latter two speakers also received higher overall sound quality scores.
Consumer Reports says that its speaker tests are conducted in a dedicated listening room, with experienced testers who compare each model with "high-quality reference speakers." In the case of the HomePod, testers found a few issues.
The bass was "boomy and overemphasized," while midrange tones were "somewhat hazy," and treble sounds were "underemphasized." Overall, Consumer Reports found the HomePod's sound to be "a bit muddy" when played next to the Sonos One and the Google Home Max.
The HomePod will serve many music fans well, but CR testers did hear some flaws. The HomePod's bass was a bit boomy and overemphasized. And the midrange tones were somewhat hazy, meaning that some of the nuance in vocals, guitars, and horns was lost: These elements of the music couldn't be heard as distinctly as in more highly rated speakers. Treble sounds, like cymbals, were underemphasized. But the HomePod played reasonably loudly in a midsized room.
All three smart speakers "fall significantly short" of other wireless speakers Consumer Reports has tested, like the Edifier S1000DB, priced at $350.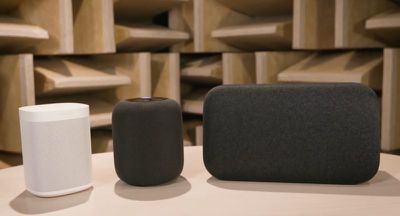 The HomePod's sound has been highly praised both by new HomePod owners and by media sites that tested the device ahead of its release. While Consumer Reports doesn't believe the HomePod outshines the Google Home Max and the Sonos One, other reviews have disagreed, including an extensive, in-depth review published by a self-professed audiophile earlier this morning.