Audiophile Review: HomePod 'Sounds Better' Than $999 KEF X300A Digital Hi-Fi Speakers
HomePod reviews from the tech press came thick and fast last week, and while the smart speaker's sound quality was consistently praised, most reviews were based on subjective assessments and didn't take into account professional-grade output measurements. Early on Monday, however, Reddit user WinterCharm posted exhaustive audio performance testing results for HomePod to the Reddit audiophile community.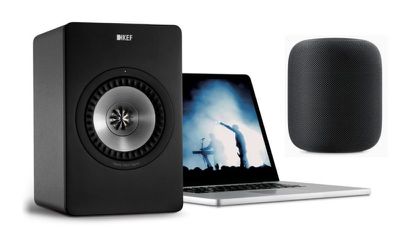 Using specialized equipment and a controlled testing environment, the review features in-depth analysis of the smart speaker's output when compared to a pair of $999 KEF X300A digital hi-fi monitors, representing a "meticulously set up audiophile grade speaker versus a tiny little HomePod that claims to do room correction on its own".
As expected, WinterCharm criticized the HomePod for its AirPlay-only output limitation and Siri's often-lackluster performance as a virtual assistant, but the speaker's audio quality appraisal was a different story. Interested readers can check out all the details and technical minutiae here, but in short, WinterCharm offered the following summary after a battery of exhaustive tests.

I am speechless. The HomePod actually sounds better than the KEF X300A. If you're new to the Audiophile world, KEF is a very well respected and much loved speaker company. I actually deleted my very first measurements and re-checked everything because they were so good, I thought I'd made an error. Apple has managed to extract peak performance from a pint sized speaker, a feat that deserves a standing ovation. The HomePod is 100% an Audiophile grade Speaker.
Do you agree with WinterCharm's review? Let us know in the comments. And make sure to check out our HomePod roundup if you're new to HomePod or planning to purchase one -- it's got everything you need to know about HomePod along with a running list of our HomePod how tos.