First Impressions From New HomePod Owners: Siri's Voice Detection is 'Phenomenal,' Audio Quality is 'Immediately Evident'
We've seen quite a few HomePod reviews from media sites that Apple invited to test the speaker, but now that the HomePod has officially launched in Australia, HomePod first impressions from regular Apple customers are now available.
New HomePod owners on reddit, Twitter, and the MacRumors forums have been sharing their opinions on the device, and for those awaiting a HomePod of their own or considering purchasing, these comments from average consumers provide interesting insight.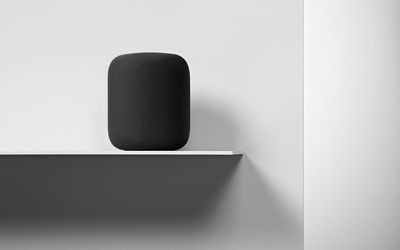 MacRumors reader ApeBot was one of the first to receive a new HomePod in Australia, and he said setting it up was "incredibly fast and easy with an iPhone." As for sound quality, it's "impressive" and "fills the room beautifully."
When using "Hey Siri" with other compatible iOS devices around, the HomePod is the device that responds first, something that future owners HomePod have been wondering about. Since iOS 10, with multiple devices around, when you say "Hey Siri" your devices intelligently decide which one should respond, and it's no different with HomePod.
Just got my HomePod. Beware, the box lid lifts off.. if you are like me, in your excitement you will hold the box up like Baby Simba in the Lion King and the HomePod will slide straight out the bottom and crash down to the floor.

Setup was incredibly fast and easy with my iPhone. Sound quality so far is impressive. Fills the room beautifully. The top display is captivating. Control via control center on my phone is integrated nicely.

For me personally, it doesnt feel as familiar as Apple products usually do. Maybe thats because it doesn't have a familiar OS?
Reddit user ghostinthelatrine offered to answer questions about the new HomePod, leading to some insightful discussion. He says the HomePod's sound "blows the [Sonos] Play 3 out of the water," and that Siri's voice detection is "phenomenal."

Image via reddit user ghostinthelatrine
Holy crap. Siri's ability to pick up my voice is phenomenal. Really phenomenal. I stood 10 meters away (32.81ft - Thanks, Siri!) with my fridge door open and I was able to just speak like a normal person (this is important for my wife who likes to use the Google Home to set timers, etc.). Felt like I was always shouting at the Google Home.
Using the HomePod as a speaker for the Apple TV was "surprisingly quiet," even at a high volume level, though the sound itself was described as "crystal clear." You can also use the HomePod with a Mac as an AirPlay destination from iTunes and it appears as an output device in the Sound settings.
Another redditor shared a detailed list of initial impressions, and he too praised the HomePod's sound quality and the ease of activating Siri on the device.

- Audio is very good, with impressive clarity and loudness. I'm no audiophile, but I do enjoy music a great deal, and the quality of HomePod is immediately evident from the moment you start using it.

- Setup grabs Apple Music AppleID details, etc from the phone, so no time was spent entering those in

- Hey Siri activates extremely well, at normal speaking volume, and I have been able to get it to play stuff on Apple Music and Podcasts very easily
AirPlay also worked well from both iOS devices and the Mac, with the exception being AirPlaying content from the Overcast app. His other comments focused on the HomePod's design. The "size and heft" of the device were surprising, and the outer fabric is "soft, but firm."

Image via Reddit user eats_midgets
The top of the HomePod, where the touch controls are located, is glossy and smooth, and in a separate tweet, another new HomePod owner said this area is something of a fingerprint magnet.
Multiple Twitter users also had thoughts to share on the HomePod, weighing in on everything from the device's sound to Siri to its power cable.
First HomePod impressions:
- Sounds amazing
- Siri is still dumb as a brick
- Small and heavy
- Really nice power cable — Russell Ivanovic (@rustyshelf) February 8, 2018
Holy Crap - I am an audiophile and the HomePod is an austounding leap forward in audio for price - the separation and soundstage from a "single" speaker is amaze balls — Ed Dale (@Ed_Dale) February 8, 2018
On the
MacRumors
forums, upcoming HomePod owners have also
listed some songs
they'll be using to test out the HomePod's capabilities when it arrives, including "Hotel California" from The Eagles, "Prelude and Kiara" from Bonobo, "Hits and Exit Wounds" from Alabama 3, "Core" from Stone Temple Pilots, "Your Latest Trick" by Dire Straits, and "Bohemian Rhapsody" by Queen.
Once the HomePod launches in the UK and the United States, our forums will be filled with HomePod users sharing their opinions and tips and tricks for using the new speaker. Make sure to check out our HomePod forum to share your thoughts on the new speaker, or post them here in this thread, and stay tuned to MacRumors because we'll have plenty of HomePod coverage both tomorrow and next week.