VideoLAN on Friday released VLC 3.0 "Vetinari", a major update to the popular media player that is rolling out across all platforms, including macOS, iOS, and tvOS.
Version 3 includes a huge number of new features and improvements to the app, including automatic hardware decoding for 4K and 8K playback, support for 10-bit HDR, 360-degree video and 3D audio, and Chromecast streaming with support for non-native formats.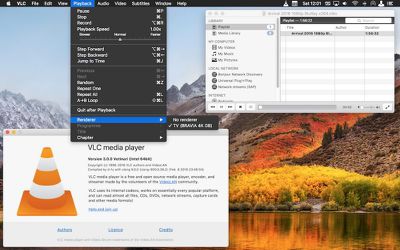 VLC now works with Blu-Ray Java menus and features network browsing support for local network and NAS drives, including those with SMB, FTP, SFTP, NFS filesystems. The iOS app has also been optimized for iPhone X displays, while on Mac, Chromecast streaming to supported devices can be found in the menu bar under Playback -> Renderer.
Among many other changes and improvements in VLC Vetinari, further standout features include: a redesigned and resizable fullscreen controller; a new status bar icon which displays metadata and play controls; support for keyboard blacklight dimming during fullscreen video playback; significant performance improvements in playlist handling; and a simplified preferences window. Check the online changelog for the complete list of updates.
VLC 3.0 is a free downloaded for Mac from the VideoLan website. (Note that version 3.0.0 of VLC removes support for OS X 10.6 Snow Leopard and requires Mac systems to run OS X 10.7 Lion or later.) VLC 3.0.0 is already available on the tvOS App Store, but the iPhone and iPad update still appears to be rolling out as of writing.