Images of Samsung's Galaxy S9 Leak Ahead of Rumored February Unveiling
Samsung is planning to unveil its next-generation smartphones, the Galaxy S9 and S9+, at an event that's set to take place at Mobile World Congress on February 25, but ahead of that date, several images have leaked depicting the South Korean company's new flagship device.
Noted leaker Evan Blass, aka @evleaks, has shared several renders of the new Samsung Galaxy S9 and S9+ on Twitter, along with details about what to expect from the device that will compete directly with Apple's own iPhone X.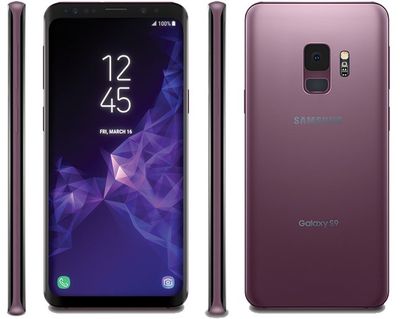 Galaxy S9


Samsung's two new smartphones will continue to use the same general design as the Galaxy S8 devices, with slim bezels and a near edge-to-edge Super AMOLED display. Unlike the iPhone X, the S9 and S9+ have black bars at the top and bottom of the device, with the top bar housing components like the camera and the microphone.

Galaxy S9+


The larger of the two devices, the Galaxy S9+, features a new vertical dual camera design at the back of the phone, similar to the iPhone X. Samsung's invite for its February 25 event suggested camera improvements will be a main focal point for the two new flagship devices.


Rumors suggest the Galaxy S9 will feature a single 12-megapixel camera with variable aperture from f/1.5 to f/2.4, while the S9+ will feature the same variable aperture 12-megapixel camera paired with a second 12-megapixel camera with a fixed aperture.
Samsung isn't ready to introduce a robust Face ID-style feature in its smartphones (but it will continue to offer less secure iris scanning and facial recognition as options), so the Galaxy S9 and S9+ will feature fingerprint sensors located at the back of the devices. Samsung has, however, repositioned the fingerprint sensor on both devices to below the camera instead of to the right of it.
Samsung plans to offer its Galaxy S9 and S9+ in Midnight Black, Lilac Purple, Titanium Gray, and Coral Blue. The Samsung Galaxy S9 will measure in at 5.8 inches like the iPhone X, while the S9+ will measure in at 6.2 inches.
Android Central
has additional details about Samsung's upcoming S9 and S9+ for those who are curious about what to expect to see in the devices that will directly compete with the iPhone X.