Apple Substituting Some 16GB iPhone 5c Models In Need of Replacement With 32GB Models
For the foreseeable future, Apple and Apple Authorized Service Providers will offer some customers who own a 16GB iPhone 5c that's in need of replacement a 32GB model instead.
Apple shared the new directive with Apple Authorized Service Providers this morning.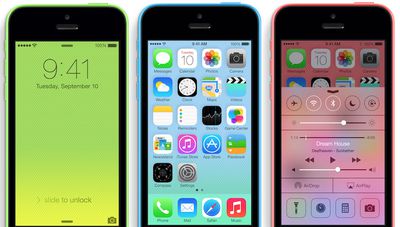 "Orders for whole unit service inventory of iPhone 5c (16GB) models may be substituted to iPhone 5c (32GB) models until further notice," reads the note that was sent out today.
Not all 16GB iPhone 5c replacements will be upgraded to 32GB devices instead, but some customers who take their iPhone 5c models in for repair for a manufacturing issue or other problem may see an upgrade to the larger capacity 32GB model.
Apple did not offer a reason why some 16GB iPhone 5c models are being replaced with 32GB models, but it's often due to available supply at any given time.
The iPhone 5c was first introduced alongside the iPhone 5s in September of 2013, and it's the only 4-inch iPhone that Apple has introduced with a colorful plastic exterior.
Apple stopped offering 16 and 32GB iPhone 5c models for sale in most countries in September of 2014, but continued selling an 8GB model until September of 2015. In India, the iPhone 5c was still available through February of 2016, but since that time, the iPhone 5c has been fully discontinued in all countries.