Gaming-focused chat platform Discord today announced a new integration with Spotify that will allow users to connect their Spotify accounts to Discord in order to showcase what they're listening to. Spotify Premium subscribers will be able to "Listen Along" to songs and full playlists together with fellow Premium members directly within their Discord server, which syncs up tracks so that each user is hearing everything at the same time.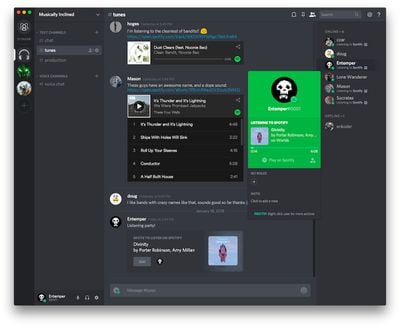 Non-Premium members will have the ability to display a currently listening to track in their Discord profile, so when friends click on the profile they can discover new music with a "Play on Spotify" button. Discord confirmed to MacRumors that the Spotify update will be available for both the Mac and PC apps, as well as in web browsers, and all of the Spotify integrations will go live on Discord today.
On iOS, Discord users will be able to see what their friends are listening to, but shared listening will only be available on the desktop apps.

"This is the next natural step to highlight the importance of music as an integral part of the gaming experience," said Mikael Ericsson, Product Director, Platform & Partner Experience at Spotify. "Starting today, we're really excited to offer Spotify Premium and Discord users the ability to listen together as a group or highlight what they're jamming out to while enjoying their favorite games."
Today's updates are set to become more enhanced additions to existing features already available in Discord. For example, the chat app previously included syncing with Spotify to show when members of a server were using the music streaming service, but today's announcement is a far deeper integration between the two companies with specific track listings that show song, album, and time in the song.


There have also been bots in Discord that perform a somewhat similar function to Listen Along, allowing server mods to create channels where users can add songs to a playlist -- with audio usually sourced from YouTube music videos -- and let multiple people join in the channel to listen in real time and edit what's coming up next.
For those who haven't downloaded it yet, Discord is a free app for Mac, PC, iOS, and Android that lets its users join servers that are typically aimed at discussing a specific game and organizing events around the game. The Mac app is available to download on the
company's website
and the iOS app is free on the App Store [
Direct Link
].