Apple Pay is set to expand to a Brazil later this year, Apple CEO Tim Cook revealed in today's first quarter earnings call. While Apple didn't provide an exact date for the launch of Apple Pay in Brazil, Cook did say it would come soon.
We began hearing rumors of an Apple Pay expansion to Brazil two years ago, but in December of last year, iPhone users in Brazil were able to see terms of service information when attempting to add a Visa Platinum Personnalité card from Itaú Unibanco, suggesting an imminent launch.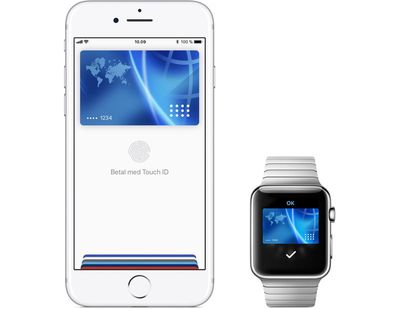 It is not yet clear which banks will support Apple Pay when the feature launches, as there is not yet an Apple Pay website for the feature in the country. More details are likely to be available soon.
Since its 2014 launch, Apple has expanded Apple Pay to more than a dozen countries, including the United States, the United Kingdom, Australia, Canada, Singapore, Switzerland, Hong Kong, France, Russia, China, Japan, New Zealand, Spain, Taiwan, Ireland, Italy, Denmark, Finland, Sweden, and United Arab Emirates.
Apple Pay works on all iPhones with Touch ID or Face ID, including iPhone 6, 6s, 6, 7, 8, 6 Plus, 6s Plus, 7 Plus, 8 Plus, SE, and X. It is also available on all Apple Watch models and can be used to make purchases in apps and on the web on Macs and iPads.
During today's earnings call, Apple also shared some details on Apple Pay, which saw its best ever quarter in Q1 2018.
Apple Pay grew 50 percent year-over-year, and it is now accepted at more than half of all retail locations in the United States, and at 2/3rds of the country's top retailers. Global Apple Pay purchase volume was also up.
Update: Apple has launched an Apple Pay webpage on its Brazilian site.