Apple's Phil Schiller on HomePod: We Want to Create a New Kind of Music Experience in the Home That Sounds Incredible
Over the weekend, Apple marketing chief Phil Schiller did a quick fifteen minute interview with Sound & Vision, where he once again explained some of the technology behind the HomePod, shed some light on why Apple ultimately decided to create an in-home speaker, and explained how the HomePod will stand out among other smart speakers on the market.
Schiller believes that Apple is in a position to create a "new kind of music experience" that not only "sounds incredible," but is also "fun to interact with." He says that's the driving force behind Apple's work on the smart speaker. Apple's focus, though, isn't on a single product -- the company wants to design a unified experience that's the same throughout the day.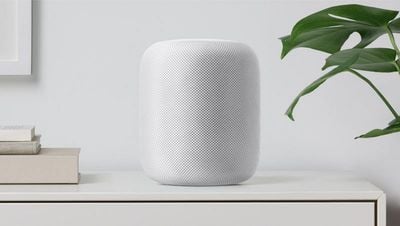 We don't think it's just about HomePod though, or any one product, it's about creating an experience that moves with you throughout the day -- so the experience you have at home, is replicated in the car with CarPlay, at work with iPad and Mac, and when you're out for a run with Watch and iPhone. You can listen to the same music, control your home accessories or ask Siri to do something for you, wherever you are.
Schiller says that Apple Music, Siri advancements in personal music discovery, and Apple's innovative audio work "come together" in the HomePod to deliver an "amazing music experience" to customers.
He went on to explain many of the technological advancements that improve sound quality in the HomePod, including machine learning to allow the HomePod to sense and adapt to its environment, the A8 chip for real-time acoustic modeling, audio beam-forming, and echo cancellation, and a more advanced thinking of speaker arrays to "create a wide soundstage."
Schiller also explained in detail how the HomePod's spatial awareness features work. From the moment it's plugged in, the HomePod senses its location. The built-in microphone array listens to how sound reflects from neighboring surfaces to determine where it's located in a room and what's nearby, adjusting audio accordingly. The A8 chip beams center vocals and direct energy away from walls that are detected, while also reflecting ambient reverb and back-up vocals against the wall for better dispersion into the room.
The end result is a wide soundstage with a feeling of spaciousness and depth. This entire process takes just seconds and it doesn't stop with the initial setup. Every time you move HomePod, it uses the built-in accelerometer to detect a change in its location and continues to make sure the music sounds great and is consistent, wherever it's placed. We've also done some great things to help minimize the audible side effects of compression artifacts by developing studio level dynamic processing to optimize for rich, clean bass even at loud volumes.
Thus far, it appears Apple's efforts to focus on sound quality have been successful. While full HomePod reviews have not yet been shared, initial first impressions from reviewers who were able to spend a short amount of time with the HomePod have been positive. Many reviewers were highly impressed with the sound quality of the device, which has been described as "warm," "astonishing," "precise," and an "aural triumph."
Apple will, however, need to convince its customers that sound improvements are worth the premium price the company is charging for the device. HomePod is more expensive than competing products from Google and Amazon, but some reviewers have questioned whether the average consumer will value sound quality more than affordability.
Phil Schiller's full interview, which goes into more detail about Apple's aim with the HomePod, how voice recognition works, HomeKit integration, and more can be read over at Sound & Vision.
The HomePod, which is priced at $349 in the United States, can be pre-ordered from the online Apple Store. The first HomePod orders will be delivered to customers starting on Friday, February 9, the official launch date of the device.