KGI Shares Latest on 6.1-Inch iPhone, Next iPhone X and iPhone X Plus to Have 4GB of RAM and Two-Cell Batteries
KGI Securities analyst Ming-Chi Kuo, who often relays information gathered from sources within Apple's supply chain in Asia, today shared a trio of new research notes that outline both new and existing predictions about the new iPhone X, iPhone X Plus, and lower-priced 6.1-inch iPhone expected later this year.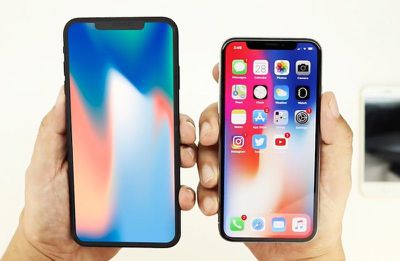 iPhone X Plus dummy model versus current iPhone X via Ben Geskin
MacRumors obtained a copy of each research note, and we've rounded up the key points. More details are available in our
2018 iPhones roundup
.
All-New 6.1-inch iPhone with LCD
New:
• Taiwanese manufacturers Pegatron, Foxconn, and Wistron will be the key assemblers of the 6.1-inch iPhone, with 60 percent, 30 percent, and 10 percent allocation of
EMS
respectively
• Japan Display will supply around 70 percent of LCD panels for the 6.1-inch iPhone. Rumors suggest Apple will use Japan Display's six-inch
Full Active LCDs
that only require ultra-slim 0.5mm bezels on all four sides
Reiterated:
• Nearly full screen design with no home button and notch for TrueDepth sensors
• 3D sensing for Face ID and Animoji
• Rectangular-shaped, one-cell battery with 2,850-2,950 mAh, up to 8.5 percent larger than current iPhone X. The increased capacity will be the result of a smaller logic board given manufacturing advancements
• Lower price point: starting at between $700 and $800 in the United States
The rumored 6.1-inch iPhone is shaping up to be a lower-priced iPhone X with some design compromises, which Kuo previously said will include an aluminum frame, a lack of 3D Touch, a single rather than dual lens rear camera, and 3GB of RAM, which will be less memory than other new 2018 iPhones have.

Next-Generation iPhone X and iPhone X Plus
According to Kuo, the second-generation iPhone X and a larger 6.5-inch version we're calling iPhone X Plus will each have an increased 4GB of RAM. Unsurprisingly, given its larger physical size, the iPhone X Plus is also expected to have up to a 25 percent larger battery capacity of 3,300-3,400 mAh vs. iPhone X.
Kuo adds that Apple has settled on a two-cell, L-shaped design for the second-generation iPhone X and iPhone X Plus battery, compared to a single-cell, L-shaped design that could have yielded up to 10 percent additional capacity.
By the sounds of it, the new iPhone X and iPhone X Plus, beyond the latter's larger screen size, won't be significant upgrades. Kuo doesn't expect improvements to be made to the TrueDepth camera system until 2019. Nevertheless, he expects the devices to sell well, especially the lower-priced 6.1-inch iPhone.