Apple's New 2018 iPhone Line-up May Consist of Two Phones With LCD Displays and One Larger OLED Model, Claims Analyst
Apple could release just one new OLED-based iPhone alongside two new iPhone models with LCD displays this year, according to a new report today. Previous reports have gravitated towards the view that Apple will launch two new 5.8-inch and 6.5-inch OLED iPhone models and only one 6.1-inch model with an LCD display.
However, Digitimes Research senior analyst Luke Lin believes Apple is increasingly leaning towards releasing two LCD-based models – one between 5.7-inch and 5.8-inches, and another between 6.0-inches and 6.1-inches. Lin also claims the 6.1-inch OLED device Apple is testing is falling out of favor, and the company sees more of a future in a larger 6.4- to 6.5-inch OLED model it is also testing.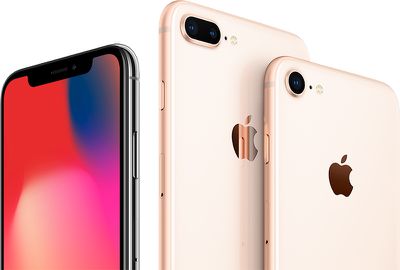 Apple originally intended to push the two OLED iPhones and the 6.0- to 6.1-inch LCD iPhone, but has recently started leaning toward the combination of the two LCD models plus the 6.4- to 6.5-inch OLED iPhone, abandoning the 6.0- to 6.1-inch OLED model.
Such a line-up would be similar to the iPhone range Apple launched last year: Two LCD-based devices in the iPhone 8 and iPhone 8 Plus, and the OLED-based iPhone X. Lin believes the four iPhone projects Apple is working on all support wireless charging and 3D sensing functionalities. However, Lin believes Apple has not yet made a final decision on the combination, so the 2x OLED/ 1x LCD iPhone line-up predicted by KGI Securities analyst Ming-Chi Kuo could still play out.
Taiwan-based website DigiTimes has a mixed track record at reporting on Apple's upcoming product plans, but its sources within the upstream supply chain have proven reliable in the past. However, its in-house research arm remains an unknown quantity, so we remain guarded on the accuracy of this prediction going forward.
Earlier this week, Taiwan's Commercial Times added to the speculation by claiming Apple's rumored 6.1-inch LCD iPhone will use Japan Display's so-called "Full Active" LCD technology, enabling it to have a taller display and ultra-slim 0.5mm bezels on all four sides, making them smaller than those on the iPhone X.
Also today, Digitimes analyst Lin claimed Apple is working on a new entry-level smartphone model similar to the iPhone SE that will support wireless charging and be ready for launch in May or June.