Woodshed Art Auctions has announced it will be auctioning an opaque watercolor painting of Apple's classic logo by the late Andy Warhol next month.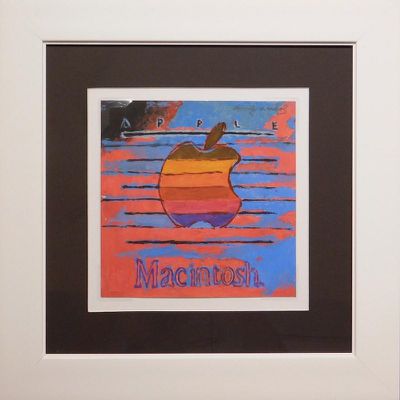 The painting is part of Warhol's "Ads" collection from 1985, one year after the original Macintosh launched. It features Apple's old rainbow logo, which the company used from 1977 to 1998, between Apple and Macintosh word marks.
The painting measures eight inches squared inside a 16.5-inch squared frame, and it is signed by Warhol on the front and back. It is said to be in "very good condition" with archival corners and no adhesives touching the artwork.
While a similar Macintosh canvas painting by Warhol sold for $900,000 at a recent Sotheby's auction, this gouache painting is on paper, so it is seemingly less valuable. Still, it is estimated to fetch between $20,000 and $30,000.
Warhol, who passed away in 1987, was a famous artist known for his paintings of iconic American items like Coca-Cola and Campbell's Soup, and celebrities including Marilyn Monroe, Elvis Presley, and Muhammad Ali.
Live bidding opens on the Woodshed Art Auctions website on February 1 at 5:30 p.m. Eastern Time, with a minimum bid of $5,000.