Apple Rises to Become World's Fourth-Largest PC Maker With Around 20M Macs Sold Last Year
Apple rose to become the world's fourth-largest PC maker in 2017, as Mac sales increased to nearly 20 million during the year, according to the latest estimates shared by research firms IDC and Gartner.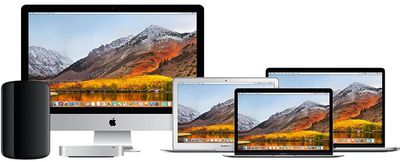 The roughly 19.6 million total is based on Apple's reported Mac sales of 13.9 million units in the first three calendar quarters of the year, while IDC and Gartner estimate Apple sold another 5.4 million to 5.7 million Macs in the fourth quarter.
Apple officially reported sales of 18.5 million Macs in 2016, so the company is looking at year-over-year growth of around four to six percent based on the IDC and Gartner data. Apple sold over 20 million Macs in both 2014 and 2015, however, so 2017 was likely not a record-breaking year for the Mac.
Apple leapfrogged either Asus or Acer depending on which dataset you look at, as IDC and Gartner have slightly different estimates. Both research firms have Apple trailing behind HP, Lenovo, and Dell, which shipped an estimated 58.8 million, 54.8 million, and 41.8 million PCs respectively last year per IDC.


Apple's growth in 2017 is impressive given Gartner claims it was the sixth consecutive year of declining PC shipments. The year saw Apple refresh its MacBook Pro and iMac lineups with Kaby Lake processors, give the base MacBook Air a slight speed boost, and launch an all-new iMac Pro.
We'll know exactly how many Macs were sold in 2017 when Apple reports its next earnings results on February 1, but if these estimates prove to be accurate, it was a financially successful year for the Mac.