International User Accounts Swept Up in Chinese iCloud Data Migration [Updated]
Apple's announcement on Wednesday that its iCloud services in mainland China will be handed over to a Chinese company has already run into controversy, after it emerged that accounts registered overseas are being swept up in the migration.
Apple said yesterday that customers based in China had been contacted and advised to examine new terms and conditions, which include a clause that both Apple and the Chinese firm will have access to all data stored on iCloud servers, which will be transferred from February 28. Customers living in mainland China who did not want to use iCloud operated by GCBD had been given the option to terminate their account.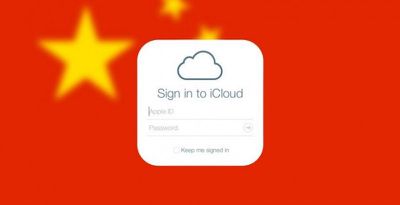 However, according to some users who spoke to TechCrunch, in the data to be handled by local partner Guizhou-Cloud Big Data (GCBD), Apple is including iCloud accounts that were opened in the U.S., are paid for using U.S. dollars, and/or are connected to U.S.-based App Store accounts.
When asked for comment, Apple pointed to its terms and conditions site, which explains that it is migrating iCloud accounts based on the settings of the user's device, not where an iCloud account is registered or billed to.
The operation of iCloud services associated with Apple IDs that have China in their country or region setting will be subject to this transition. You will be notified of this transition via email and notifications on your devices. You don't need to take any further action and can keep using iCloud in China.

After February 28, 2018, you will need to agree to the terms and conditions of iCloud operated by GCBD to keep using iCloud in China.
As it stands, this could result in thousands of users temporarily living in China to study or work having their data migrated to servers under the control of GCBD, which is owned by the Guizhou provincial government in southern China.
The situation is said to have left many users feeling trapped into the migration, but one user has discovered an apparent opt-out. This involves switching an iCloud account back to China before signing out of all devices. The user then switches their iPhone and iCloud settings to the U.S., and after signing back into iCloud, their account should no longer be part of the migration.
"What will Apple do when the Chinese authorities request a backdoor to access data that is encrypted?" Charlie Smith, founder of censorship monitoring site Great Fire, told TechCrunch. "Will they continue to adhere to local laws and regulations and submit to the request? Or are they leaving this decision squarely in the hands of GCBD, their local partner?"
Updated: Apple says a very small number of customers whose Apple ID country is not China received this notice by mistake, as noted by TechCrunch. Apple says no changes have been made to these users' iCloud accounts.
You recently received an email from us notifying you about an upcoming change for iCloud services in China. This email was sent in error. No changes have been made to your iCloud account.

We are very sorry that you received this email. This email was intended only for customers whose Apple ID country is China. A very small number of our customers who Apple ID country is not China also received this email by mistake.
Note: Due to the political nature of the discussion regarding this topic, the discussion thread is located in our Politics, Religion, Social Issues forum. All forum members and site visitors are welcome to read and follow the thread, but posting is limited to forum members with at least 100 posts.