Former Apple Intern Looks Back at Designing First Apple Emoji in 2008
Back in 2008, Angela Guzman was a graphic design student at the Rhode Island School of Design (RISD) and an intern at Apple, where she joined the iPhone team and worked alongside another Apple designer, Raymond, to come up with the first 500 emoji characters that were available on the iPhone.
To celebrate the 10th anniversary of her internship, Guzman has taken a look back at her time at Apple and her work on emoji in an interesting retrospective shared on Medium.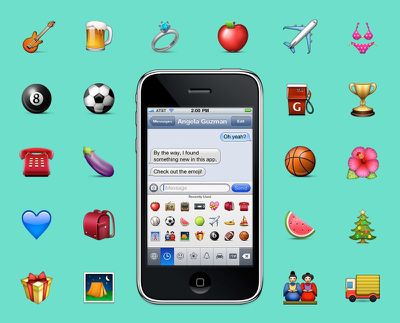 Image via Angela Guzman


When Guzman was handed the emoji project at Apple, it came at a time when emoji were unfamiliar in the English speaking world. Guzman received a crash course in Apple design and then started designing emoji, which featured incredible detail even right from the start. Then Apple CEO Steve Jobs reviewed each batch of emoji before it was approved for launch.
Regardless of how fast I could crank one out, I constantly checked the details: the direction of the woodgrain, how freckles appeared on apples and eggplants, how leaf veins ran on a hibiscus, how leather was stitched on a football, the details were neverending. I tried really hard to capture all this in every pixel, zooming in and zooming out, because every detail mattered.
Some emoji, says Guzman, have interesting back stories. The happy poop swirl, for example, was reused as the top of the ice cream cone. Harder, more detailed emoji were left last, such as the now-iconic dancer with the red dress.
Guzman's emoji were first launched in Japan in November of 2008, and in the time since then, emoji have changed the way we communicate. Emoji have become an important part of the iOS and macOS ecosystem, and Apple has continued refining and improving its emoji offerings with each Unicode update.
As with the first Apple emoji designed by Guzman and her partner Raymond, emoji today feature incredible detail thanks to the talented artists at Apple who take the time to make sure each and every pixel is perfect.
iOS 11.1 was the last iOS update that introduced new emoji, bringing Unicode 10 characters like crazy face, pie, pretzel, t-rex, vampire, exploding head, face vomiting, shushing face, love you gesture, brain, scarf, zebra, giraffe, fortune cookie, pie, hedgehog, and more.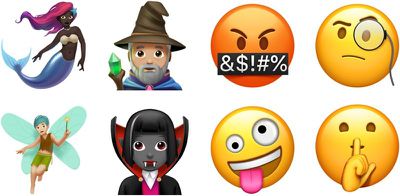 The next emoji update will come with the release of Unicode 11 in 2018, and emoji proposals for that update include smiling face with three hearts, blue face with icicles, smiling face with cape, mango, cupcake, kangaroo, llama, peacock, and red hair options for existing emoji.