Satechi today announced the launch of a new 75W USB-C travel charger that's equipped with multiple ports to charge all of your devices with one simple power adapter.
The 75W Multiport Travel Charger offers four charging ports, including a USB-C power delivery port, two USB 3.0 ports, and one Qualcomm Quick Charge 3.0 port.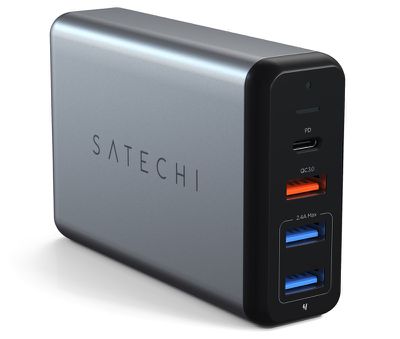 The USB-C port can provide up to 60W of power, making it suitable for the 12-inch MacBook, the 13-inch MacBook Pro, and similar USB-C devices. It can also charge a 15-inch MacBook Pro, but as that machine accepts up to 87W of power, it may not charge fully with the Multiport Travel Charger when under a heavy workload.
While charging a MacBook or MacBook Pro, the Travel Charger can also charge your iOS devices at the same time, with up to 75W of total power provided.


When using the USB-C port with a USB-C to Lightning cable, the Travel Charger enables fast charging on supported devices like the iPhone 8, iPhone 8 Plus, and iPhone X.
Satechi says the Travel Charger features an input range of 100-240V, allowing it to meet the voltage requirements of multiple countries. It has also been designed with a compact size to make it easy to fit into a backpack or luggage.
Satechi's USB-C 75W Multiport Travel Charger can be purchased for $60 from Amazon.com or directly from the Satechi website for $64.99.