Keyboard maker lofree has launched a modified version of last year's popular crowdfunded Bluetooth mechanical keyboard, which we reviewed here on MacRumors back in March. With the original input device, lofree's designers attempted to re-imagine the typing process by recreating the experience of operating a traditional typewriter, but in an elegant retro-modern design.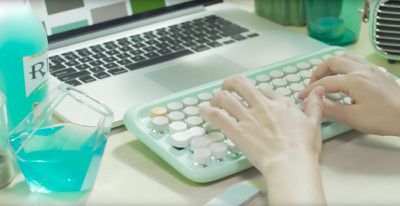 The new lofree Four Seasons keyboard comes in four new colors including Spring (Vernal White), Summer (Aestival Blue), Autumn (Autumnal Gray), and Winter (Hibernal Black). Several design changes have also been implemented that may help the lofree appeal to a wider audience.
While appreciating the original lofree's aesthetic and Mac compatibility, we criticized it in our review for some odd layout quirks, such as the decision to line up the number key row so that 1 is slightly right of Q, 2 is right of W, and so on. Happily, the layout has been reconfigured on the second generation lofree to more closely match the keys on a typical Apple keyboard and respect the muscle memory of Mac-based touch typists.


In addition to the repositioned number keycaps, the backspace and caps lock keys have been made longer, while the dual mechanical Gateron switches under 'enter', 'shift', and the space bar have been replaced by a single mount, to provide a more comfortable, stable typing experience. Lofree says it has also optimized the sideboard buttons to further extend the lifetime of the Four Seasons version.
The new lofree Four Seasons retains the adjustable backlight and remains compatible with iOS, Windows, and Android. With a month to go, the lofree Indiegogo campaign has already raised $108,803, which is 1,088 percent over its original $10,000 goal. Early bird customers can purchase one for $140 plus shipping (currently expected in March). You can find more information over on the
official campaign page
.