Apple's iPhone Easily Named 'Best-Selling Tech Product of 2017'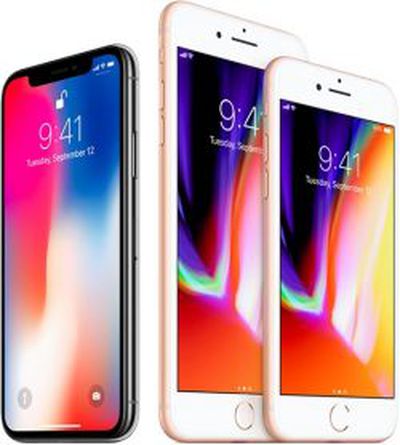 The iPhone has been named the "best-selling tech product of 2017" by analyst Daniel Ives of GBH Insights (via USA Today).
Apple's smartphone achieved the same ranking in 2016, and Ives said that the company will sell a total of 223 million iPhones in 2017, increasing from 211 million sold in 2016.
The iPhone was followed by Samsung Galaxy S8 and Note 8 (33 million), Amazon Echo Dot (24 million), Apple Watch (20 million), and Nintendo Switch (15 million).
The rankings include all models of iPhone grouped together, explaining why the gap is so large between Apple's iPhone and Samsung's Galaxy S8 and Note 8.

But all in all, Apple sold more iPhones total, although less than the peak year of 2015, when it moved 230 million units. (That was the year of the iPhone 6, a redesign that brought a bigger iPhone to consumers for the first time and enthralled the public.)

Ives thinks Apple will have an even bigger 2018, with a spring update to its compact SE iPhone and more new phones in the fall. Out of the billion-plus consumer base of the iPhone, "350 million of them will upgrade next year," says Ives.
In the fourth spot, Ives described Apple Watch as a product that's now "found its niche" in the wearables market, thanks to the LTE Series 3 update that makes it less reliant on the iPhone. The analyst also cited ongoing discounts for older models, improved battery life on the Series 3, and Apple's pivot away from marketing the Apple Watch as a fashion accessory to one mainly used for fitness and working out.
Earlier this week, data shared by mobile analytics firm Flurry described the iPhone and iPad as the most popular items gifted around the world for the holidays. Flurry looked at device activations from December 19 to December 25 and noted that 44 percent of new device activations were for Apple products, with the iPhone 7 leading the pack at 15.1 percent of Apple product activations. For the newer models, the iPhone X was at 14.7 percent while the iPhone 8 and 8 Plus sat at 8.1 and 8.7 percent, respectively.