Apple Again Tops Holiday Sales With 44% of All New Mobile Device Activations
Apple's iPhone and iPad were again the most popular mobile devices gifted around the world during the holidays this year according to new data shared today by mobile analytics firm Flurry.
In the week leading up to Christmas and the end of Hanukkah (12/19 to 12/25), Flurry took a look at all new smartphone and tablet activations to see which devices consumers were purchasing most.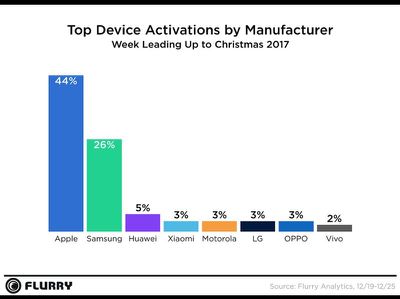 44 percent of new device activations were Apple devices, while Samsung devices accounted for 26 percent of activations. Huawei, Xiaomi, Motorola, LG, OPPO, and Vivo trailed behind Apple and Samsung with each responsible for 2 to 5 percent of new device activations.
The 2017 activation numbers closely mirror the activation numbers we saw from Flurry in 2016. Apple also saw the highest number of device activations -- 44 percent -- during the same time period last year, followed by Samsung at 21 percent.
Similar to last year, 44% of new phone and tablet activations were Apple devices. While Samsung dominates global market share, they fell short as the gift of choice during the holiday season, with only 26% of activated devices in the lead up to Christmas. Samsung's activation rate is up 5% from the 2016 holiday season, which can likely be attributed to the 2017 introduction of the Galaxy S8 after the late 2016 recall of their malfunctioning Note devices.
Broken down, it's actually Apple's older devices that saw the highest number of new activations rather than the newer devices. 15.1 percent of activations were for the iPhone 7, followed by 14.9 percent for the iPhone 6. Apple's flagship device, the iPhone X, was popular though, making up 14.7 percent of new activations. The iPhone 8 was responsible for 8.1 percent of new activations, and the iPhone 8 Plus was responsible for 8.7 percent.


It's important to note that Flurry examined worldwide activations, where older, more affordable devices are popular. Apple no longer sells the iPhone 6, for example, but it's still readily available internationally from third-party resellers who offer it at a discounted price.
When looking at device size, "phablets" or devices that measure in at 5 to 6.9 inches, made up 53 percent of all new device activations, while smaller phones (3.5 to 4.9 inches) made up 35 percent of activations. Full-sized tablets like the iPad (with only cellular models counted here) were responsible for 8 percent of activations. Interest in larger devices has grown significantly over the course of the last two years.


To gather its data, Flurry measured smart device activations and app downloads from the more than one million mobile apps that use the Flurry Analytics service. Flurry says it has insight into more than 2.1 billion devices around the world.