Apple Park Visitor's Center Now Open to the Public
The Visitor's Center at Apple's new Apple Park campus opened up to the public this morning, allowing Apple fans to visit the Cupertino location to check out the campus and purchase souvenirs and snacks.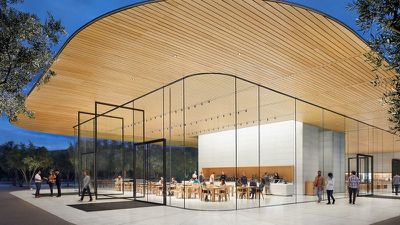 It features a cantilevered carbon fiber roof that was designed to look like it floats, along with staircases, stone walls, and terrazzo floors that match the aesthetic of the rest of the campus.


Inside, there's a large 3D model of Apple Park that provides guests with information about the campus through an augmented reality experience provided through dedicated iPads.


A store area offers a range of Apple products and accessories, including Apple Park-exclusive T-shirts, hats, postcards, baby onesies, playing cards, and tote bags. A cafe built into the Visitor's Center offers coffee, tea, and snacks.


On the roof, there's a roof terrace that offers views of the main building and the landscaping, which includes more than 9,000 trees. While visitors can view the rest of Apple Park from the Visitor's Center, the other areas of the campus are off limits.


The Apple Park Visitor's Center is open from 9:00 a.m. to 7:00 p.m. on Monday through Friday. On Saturdays, it opens at 10:00 a.m. and closes at 6:00 p.m., and on Sundays, it opens at 11:00 a.m. and closes at 6:00 p.m.