Apple's 'TV' App Starts Showing Up for Users in the UK, France, and Germany
Apple's official TV app today started showing up for some fourth- and fifth-generation Apple TV owners in the United Kingdom, France, and Germany, almost a year after Apple originally announced the service in the U.S.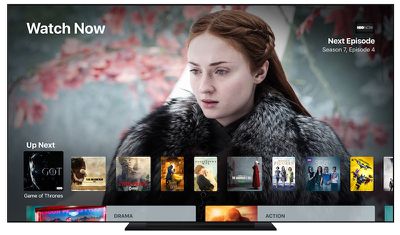 The TV app is billed as an easy way to watch your favorite movies and TV shows in a single place. It offers a unified experience for accessing TV shows and movies across multiple video apps, and aims to help users discover new TV and movie content by offering recommendations based on what they've previously watched. The service syncs content in the cloud so users can pick up where they left off on other devices via the accompanying iOS TV app, which has also been appearing on devices across the pond.
More than 60 services are supported by the U.S. version of the TV app, but with the expansion to new countries, Apple is adding support for additional local content, such as ITV, Channel 5, and BBC iPlayer in the U.K.
Apple's TV app has been available in the United States since December of 2016. In September, Apple released the Apple TV app in Canada and Australia, and announced that it would be bringing the app to France, Germany, Sweden, Norway, and the U.K. by the end of the year.