iPhone Remains Flickr's Most Popular Camera in 2017 Ahead of Canon and Nikon
As it does every year, Flickr today shared its 2017 Year in Review statistics highlighting various aspects of the photo-sharing community with lists including the Top 25 Photos of 2017, Top Devices, and Top Brands. For the Top Brands category, Apple has once again beaten out dedicated camera makers with iPhones being used by 54 percent of photographers uploading photos to Flickr this year, followed by Canon in second place (23 percent) and Nikon in third place (18 percent).
Over the past few years, iPhones have been rising up Flickr's Year in Review rankings. In 2015 iPhones were used for 42 percent of the photos shared to Flickr, and then in 2016 Apple's smartphones retained the top spot again, with 47 percent. Apple first surpassed Nikon to become the second most popular camera brand on Flickr's 2014 rankings.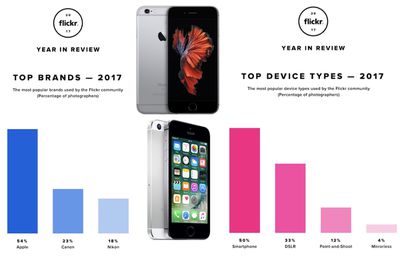 The most popular iPhones used to capture photos shared on Flickr in 2017 were slightly older models: the iPhone 6, iPhone 6s, and iPhone 5s. In total, iPhones accounted for 9 of the Top 10 Devices of 2017, with the Canon 5D Mark III representing the only non-Apple product on the list.
The Top Device Types list has stayed the same over the years, but in 2017 smartphones have grown to account for 50 percent of photos uploaded to Flickr, up from 48 percent last year. DSLR came in second with 33 percent (up from 25 percent last year), followed by point and shoot with 12 percent (down from 21 percent), and then mirrorless at four percent (up from three percent).
Flickr has posted quite a few lists of photos recapping the past year, including the overall Top 25 Photos of 2017, Top Portrait Photography, Top Nature & Wildlife Photography, Top Landscape Photography, and much more. Flickr today also announced new partnerships for its premium Flickr Pro membership, introducing perks from Adobe, Priime, and Portfoliobox into Pro.
Those interested can read more about Flickr Pro here, and check out more of the best Flickr photos of the year here.