Apple May Add Reversible Emoji in iOS 12 and macOS 10.14 Next Year
The Unicode Consortium has proposed new guidelines that would allow for reversible emoji. In other words, emojis such as a car or train that currently face to the left or right only would be able to face either direction.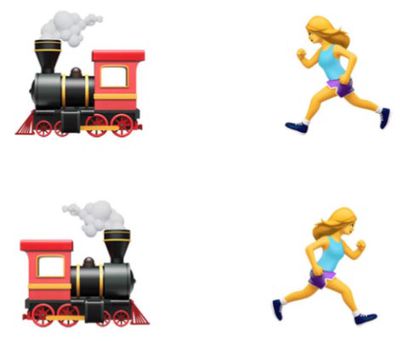 Apple and other vendors would be able to choose which emoji can be reversible on their devices, if any, according to their preferences.
The guidelines are still a draft that should be finalized by time the next major batch of over 100 new emoji characters are made available for companies like Apple to implement starting in the second half of 2018.
The Unicode Consortium has also introduced a handful of new emoji candidates for the second half of 2018, including a swan, badger, infinity, and pirate flag, according to Jeremy Burge at Emojipedia.org.
Unfortunately, for true emoji aficionados, it looks like "Frowning Pile Of Poo" and two other faces haven't made the cut for the next batch.
Emoji 11.0, proposed earlier this year, currently includes 130 new emoji candidates. Some notable inclusions are faces with red hair, faces with no hair, faces with curly or afro hairstyles, and hot and cold faces.


Other candidates include new superheroes, a firecracker, a fire extinguisher, a test tube, a lacrosse stick with ball, a softball, and a bagel.


The timeline means that iPhones and iPads could support both the new and reversible emoji in iOS 12 or iOS 12.1 around September to November of next year. The new batch should extend to the Mac as well in a future macOS update.
The emoji included in this article are sample images by Emojipedia.org and could vary slightly from Apple's final designs.