Apple is opening a new store at the Crabtree Valley shopping mall in Raleigh, North Carolina this weekend, as part of its efforts to modernize its chain of nearly 500 retail locations around the world.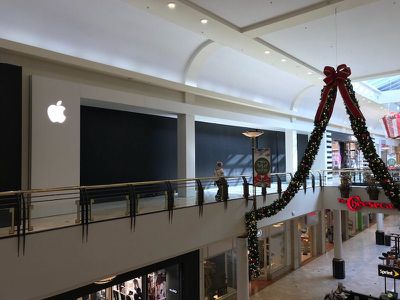 Apple's upcoming store at Crabtree Valley via Will Sigmon
The new store will celebrate its grand opening on Saturday, December 9, likely at 8:00 a.m. local time, according to
Slice podcast
co-host
Will Sigmon
.
Apple is moving into approximately 9,000 square feet of space, nearly double the size of its current store at Crabtree, which opened in June 2006. The new location will be next to Sephora on the second level.
The new store will feature Apple's latest retail design, which typically includes large glass doors, sequoia wood tables and shelves, a large video screen for Today at Apple sessions, and light boxes spanning the length of the ceiling.
All of Apple's stores opened since September 2015 have been based on the updated aesthetic. Apple has also renovated or relocated around 50 existing stores around the world as part of the modernization of its retail chain.
Apple has one other store in The Triangle at The Streets at Southpoint in Durham, along with two stores in Charlotte and one in Greensboro.