iPhone X Shipping Estimates Improve to Under One Week in United States
Shipping estimates for the iPhone X continue to improve, and in the United States, iPhone X models ordered today will arrive in just about a week.
Apple's online store in the U.S. is currently listing a delivery date of December 8 for all new iPhone X orders, meaning iPhone X orders will need to ship out in just a matter of days to meet that estimate.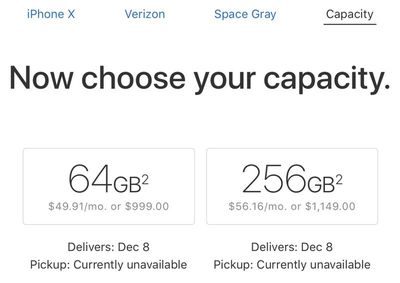 The new under a week shipping estimates follow improved 1 to 2 week shipping estimates that were introduced on November 22.
iPhone X shipping estimates have also improved in Canada and multiple countries in Europe, while estimates are beginning to improve in Asia Pacific countries. The Canadian online store lists a shipping estimate of five business days, for example, while European stores list delivery dates of December 11. In Australia, New Zealand, and other countries, shipping estimates range from several days to two weeks.
Over the course of the last month, Apple has been significantly ramping up production in order to meet demand for the iPhone X, and as a result, we've seen shipping estimates that have improved drastically since the iPhone X first launched.
Following the October 27 pre-orders for the iPhone X, shipping estimates were as high as 5 to 6 weeks, but Apple has been able to improve supply earlier than expected. Initial rumors suggested the iPhone X would be heavily constrained and in short supply until well into the new year, but given the improvements we're seeing, Apple will likely reach supply/demand balance in the near future.
In addition to improving stock for online orders, Apple has also been shipping out iPhone X pre-orders more quickly than expected. Customers who initially had December order dates have been receiving their devices throughout November, and Apple retail stores have also been receiving regular shipments.
Back at the beginning of November, Apple CEO Tim Cook said Apple was working to ramp up iPhone X production week by week to get the new smartphone out to customers "as soon as possible."
According to KGI Securities analyst Ming-Chi Kuo, the improved iPhone X shipping estimates are indeed due to better-than-expected improvements in production rather than a lack of demand for the new device.