iPhone X Shipping Estimates Improve to 2 to 3 Weeks in Europe, US Could Be Next [Updated]
Shipping estimates for the iPhone X have improved to 2 to 3 weeks across Europe, suggesting Apple's efforts to ramp up supply and production are starting to see some success. The 2 to 3 week shipping estimates are an improvement over the previous 3 to 4 week shipping estimates that have been available since early November.
The new 2 to 3 week shipping estimates are available in all European countries where the device has launched, including the UK, Italy, France, Germany, Spain, Denmark, Sweden, Norway, Switzerland, the Netherlands, and more.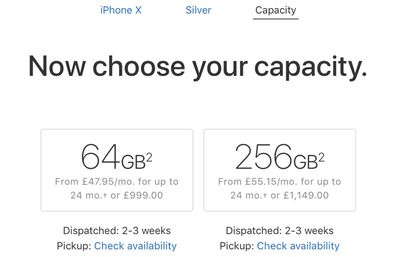 iPhones ordered today in these countries will arrive well ahead of the holidays, in early December.
Other countries in North America and Asia Pacific still list 3 to 4 week shipping estimates, but the last time shipping estimates improved, we saw better estimates in Europe that then expanded to the United States. We expect to see U.S. shipping estimates drop soon.
In addition to improving shipping estimates from devices purchased from the online Apple Store, we've also been hearing continual reports from MacRumors readers who have seen their pre-ordered iPhone X models shipping out much sooner than expected. Many who originally had December shipping estimates have already received their devices or are expecting them in November.
Apple retail stores are also receiving regular shipments and customers who check stock on Apple.com early and use stock-tracking tools like iStockNow have been able to make purchases with no wait time.
Back in early November, Apple CEO Tim Cook said Apple was working to ramp up iPhone X production week by week, with the aim of getting the new smartphone out to customers "as soon as possible."
Ahead of the iPhone X launch, rumors suggested the device would be heavily constrained and in short supply until well into 2018, but given the improvements we're already seeing, supply/demand balance could be reached earlier than originally expected.
Update: Shipping estimates have now improved to two to three weeks in Asia Pacific as well, which includes countries like Japan, China, Australia, New Zealand, and more.