iPhone X Shipping Estimates Improve to 3-4 Weeks in Several Countries
iPhone X shipping estimates have improved to 3 to 4 weeks in many countries around the world, including the UK, Australia, Japan, China, and more.
In fact, shipping estimates are better in what appears to be all first wave launch countries in Europe, Asia Pacific, and the Middle East.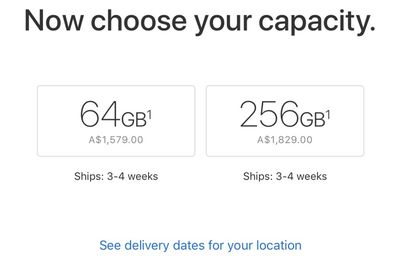 At three to four weeks, customers in those countries who place an order today will be able to get their hands on an iPhone X right around the beginning of December. Customers who have already placed an order should also see their arrival times improve, and MacRumors readers are already reporting decreased wait times.
The new shipping estimates are an improvement from the 5 to 6 week estimates we saw just after pre-orders sold out. Estimates have not yet improved in North America, so we're still seeing 5 to 6 week wait times in the United States, but the better shipping estimates should soon expand to all launch countries.
Apple's iPhone X is on the verge of launching, and the first orders will arrive to customers in New Zealand and Australia in just a few hours. Apple Stores will be opening at 8:00 a.m. local time across the globe for in-store sales.