Apple today announced that its retail stores in Burlingame, California, near San Mateo, and Burlington, Massachusetts, near Boston, will celebrate grand reopenings on Saturday, November 18 at 10:00 a.m. local time.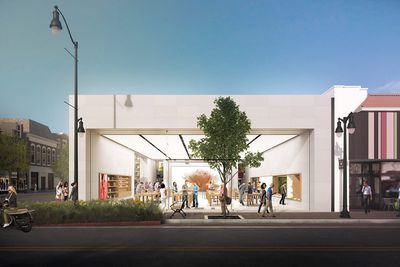 A render of Apple's new store in Burlingame, California via Storeteller
Both locations have been closed for several months while undergoing renovations, as part of Apple's efforts to modernize its retail stores around the world. The updated aesthetic typically includes large glass doors, sequoia wood tables and shelves, and a large video screen for
Today at Apple
programming.
Apple Burlingame originally opened in July 2003, while Apple Burlington has been serving customers since November 2005. Apple now operates over 250 retail stores across the United States, and nearly 500 worldwide.