Apple today announced it will be opening a new store at Domain Northside in Austin, Texas on Saturday, November 11 at 10:00 a.m. local time.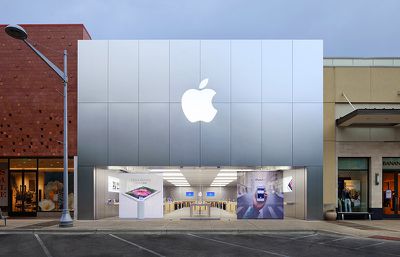 Apple's current store at The Domain shopping center in Austin, Texas
Apple's nearby store at The Domain should permanently close after business hours on Friday, over 10 years after it originally opened in March 2007. Most employees will presumably transition to the new store.
Domain Northside is a new shopping and dining district of The Domain, an upscale outdoor shopping center in northern Austin. The first of more than 70 stores and restaurants at Domain Northside opened in 2016.
The new store will feature Apple's latest retail design, which typically includes large glass doors, sequoia wood tables and shelves, a large video screen for Today at Apple sessions, and light boxes spanning the length of the ceiling.
All of Apple's stores opened since September 2015 have been based on the updated aesthetic. Apple has also renovated or relocated nearly 50 existing stores around the world as part of the modernization of its retail chain.
Update: MacRumors reader Holden Satterwhite, known as Appleosophy on YouTube and Instagram, has shared a video of Apple Domain Northside's grand opening.