iPhone X Teardown: TrueDepth Camera System, Stacked Logic Board With 3GB RAM, and 2,716 mAh Battery
iFixit has completed an iPhone X teardown, providing a closer look inside the device, including its new TrueDepth camera system, stacked logic board, L-shaped two-cell battery pack, and Qi-based inductive charging coil.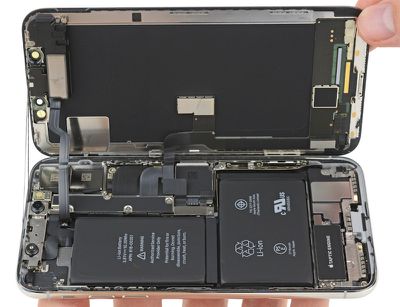 Like every other model since the iPhone 7 Plus, the iPhone X is a sideways-opening device. A single bracket covers every logic board connector.
iFixit said the miniaturized logic board design is incredibly space efficient, with an unprecedented density of connectors and components. It noted the iPhone X logic board is about 70 percent of the size of the iPhone 8 Plus logic board.
The extra room allows for a new L-shaped two-cell battery pack rated for 2,716 mAh, which is slightly larger than the iPhone 8 Plus battery.


iFixit's teardown includes some high-resolution photos of the iPhone X's new TrueDepth camera system that powers Face ID and Animoji.
For those unfamiliar, a flood illuminator covers your face with infrared light. Next, the front-facing camera confirms a face. Then the IR dot projector projects a grid of dots over your face to create a three-dimensional map. Last, the infrared camera reads this map and sends the data to the iPhone X for authentication.


Like the iPhone 8 and iPhone 8 Plus, the inside of the iPhone X's rear shell is affixed with an inductive charging coil based on the Qi standard.
Other components in this iPhone X include Apple's custom A11 Bionic chip, 3GB of LPDDR4x RAM from SK Hynix, 64GB of flash storage supplied by Toshiba, Qualcomm's Snapdragon X16 LTE modem, and a Cirrus Logic audio amplifier.


Some minor changes: Apple's Taptic Engine continues to be a linear oscillator vibration motor, the earpiece speaker has been shifted down, and the Lighting connector is said to be more greatly reinforced with a wider bracket that screws into the sidewall of the iPhone X's stainless steel frame.
iFixit gave the iPhone X a so-called repairability score of six out of a possible 10 points. It said a cracked display can be replaced without removing Face ID's biometric hardware, but it added that fussy cables tie unrelated components together into complex assemblies that are expensive and troublesome to replace.