iPhone X Shipping Estimates Improve to 3-4 Weeks in the United States and Canada
iPhone X shipping estimates have now improved to 3 to 4 weeks in the United States and Canada, up from a previous shipping estimate of 5 to 6 weeks.
The updated 3 to 4 week shipping estimate applies to all carriers, colors, and capacities, and it means that orders placed today will arrive right around the beginning of December rather than later in the month.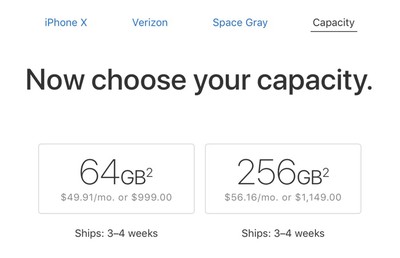 Earlier today, iPhone X shipping estimates improved to 3 to 4 weeks in countries Europe, Asia Pacific, and the Middle East, while shipping estimates were still at 5 to 6 weeks in North America, but now the iPhone X lists the 3 to 4 week shipping estimate in all first wave launch countries.
With shipping estimates improving, customers who have already placed an order for the iPhone X are also seeing their prospective delivery dates bumped up in many cases, and as available supply grows, delivery estimates should continue to improve further.
Just this afternoon, Apple CEO Tim Cook said Apple is working to increase production week by week to get the iPhone X to as many customers as possible as fast as possible.
iPhone X is here! A big thank-you to all our customers in Sydney, and everyone turning out around the world Friday! 👏 pic.twitter.com/5NKXUnePLu — Tim Cook (@tim_cook) November 2, 2017
As it's already November 3 in many countries around the world, the first iPhone X models are in the hands of customers. Apple's U.S. launch will kick off in the United States at 8:00 a.m. local time, with those on the east coast being the first to get the new devices.