Apple is likely to retain the all-plastic lens system used in the iPhone X for its 2018 iPhone range, according to respected analyst Ming-Chi Kuo.
In a research note for KGI Securities, obtained by MacRumors, Kuo said he disagrees with market speculation that Apple will implement a 7P (seven-lens plastic) or a 2G3P (two-glass, three plastic) lens design for the rear-facing camera modules in next year's iPhone line-up.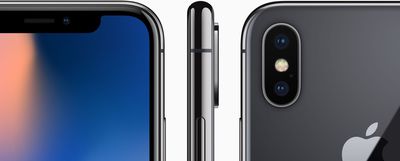 With its rear camera specs, iPhone X has managed to strike a phenomenal balance between picture quality and form factor design, in our opinion, given how far we've come today technologically. Switching from a 6P lens to a 7P lens or a 2G3P hybrid lens, with camera module design largely similar to iPhone X's, would make for only limited improvements in aperture performance, we believe.
In addition, Kuo believes that moving to a new 7P or hybrid lens design would incur unnecessary risk on the supply of iPhones in 2018, and Apple is unlikely to make any manufacturing choices that could bring about a repeat of the supply constraints related to this year's iPhone X.
Should Apple retain the 6P lens design on its 2018 iPhones, Kuo thinks Apple supplier Largan can expect slightly higher market share, although its leading market position will likely remain unchanged. The company commands the world's largest lens capacity, while its prowess in design and assembly can be carried toward upgrades of future generations of 7P lens or hybrid lens.
The iPhone 7 Plus was the first handset to adopt the dual-lens design, which includes a wide angle and a telephoto lens, while the iPhone 8 Plus builds on the improved performance by using a more advanced sensor module. The iPhone X camera basically uses the same design as the iPhone 8 Plus, with the exception of an additional optical image stabilization component for the telephoto lens.