New York City Subway Entrance Turned Into Fake Apple Store With Line for iPhone X
Improv Everywhere recently turned a New York City subway station entrance into a fake Apple Store, complete with both fake employees and customers lined up for the iPhone X. It shared the entire act on YouTube today.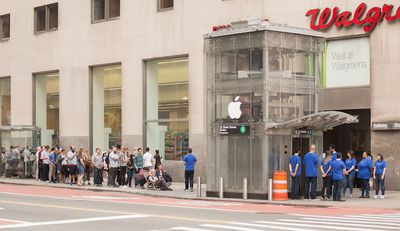 Photo: Arin Sang-urai via Improv Everyhwere
The improv group started by affixing a large Apple logo to a glass elevator at the corner of East 23rd Street and Park Avenue in Manhattan, which actually leads down to trains on the Lexington Avenue Line.
Next, they had 50 fake customers line up along the sidewalk. Fake employees, wearing blue shirts with Apple logos, stood near the entrance to the elevator and cheered as people went down to the trains.
The whole scene attracted the attention of many onlookers, who were told a new Apple Store was opening in the subway station since Apple's iconic glass cube store on nearby Fifth Avenue is (
actually
) undergoing renovations.
The fake employees even tried to convince people to line up for the iPhone X. To make the act look more convincing, some of the fake customers came out of the elevator holding white bags while acting excited.

Photo: Arin Sang-urai via Improv Everyhwere
Many people that walked by were confused by what they were seeing, with some individuals stopping for interviews with fake camera crews. A few people even joined the queue for the iPhone X, as Improv Everywhere explains in a
blog post
.
A few people who believed us actually got in line to wait, hoping to get their hands on the iPhone X early. We were worried this might happen, and we really didn't want to waste anyone's time. So our Apple employees would tell people that we'd run out of phones, and only the first 50 people in line would get one.
The improv act looks to have occurred a few weeks ago, based on a Reddit discussion full of confused New Yorkers.
"Anyone know what Apple event is going on at the 23rd street 6 train stop in NYC?" one user wrote. "Walked by and there was a long line for the subway elevator, and Apple employees lined up welcoming people into it one at a time."
"Just spoke to one of the employees, looks like they're doing a silent iPhone X release to advertise the new store," another user replied.
In actuality, of course, the iPhone X doesn't launch until this Friday. Many actual customers are already starting to line up at stores around the world for a chance to purchase the device on a first come, first served basis.
The improv act was the idea of Josh Berger, Deanna Director, and Maggie McClurken, and directed by Improv Everywhere's Charlie Todd.