Microsoft today announced that its Outlook.com Premium feature, which offered features like an ad-free Outlook experience for $19.95 per year, is closed to new subscribers.
Outlook.com Premium features are now being added to Office 365 Home and Office 365 Personal subscriptions.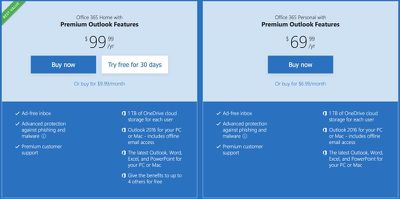 Today, we began rolling out new benefits for Office 365 Home and Office 365 Personal subscribers who use Outlook.com. These premium email features include an ad-free inbox, enhanced protection against malware and phishing, larger mailbox sizes, and premium customer support. In the coming months, we'll be introducing additional premium Outlook.com features to make personal email and calendar experiences for Office 365 subscribers more powerful, productive, and secure.
Office 365 subscribers will now get the same ad-free experience that was available with Outlook Premium, eliminating banner ads and advertisements in the message list.
More mailbox storage is also included, as is advanced security against email threats, including a feature for scanning attachments and checking incoming links. All Office 365 subscribers now get 50GB of mailbox storage, while free Outlook.com accounts will get 15GB of storage space.
Microsoft says that in addition to 365 subscribers, all loyal Outlook.com users whose mailbox is 12GB or larger will be updated to 50GB.
The premium Outlook features will be added to all 365 Home and Personal subscription accounts automatically for users that have @outlook.com, @hotmail.com, @live.com, and @msn.com accounts. Advanced email security features will not apply to @gmail, @yahoo, or other third-party email accounts.
Existing Outlook.com Premium subscribers can continue to renew their Premium subscriptions and receive the same benefits. Premium customers who have custom domains will be able to continue to use them, with domain renewal automatically included in yearly subscription fees. Custom domains are not a feature included in the new 365 options.
Office 365 Home is priced at $99.99 per year or $9.99 per month, while Office 365 Personal is priced at $69.99 per year or $6.99 per month. Office 365 Home can be installed on up to five PCs or Macs and five tablets and five smartphones, while Office 365 Personal is limit to 1 PC or Mac and can be installed on one tablet and one smartphone.
The new premium Outlook functionality is rolling out to Office 365 subscribers starting today, but could take a month to become available to all customers.