Is it Worth Buying AppleCare+ for iPhone X?
After spending at least a thousand dollars on a brand new iPhone X, you may be debating whether it's really worth it to spend an additional few hundred dollars on an AppleCare+ plan to insure your shiny new smartphone.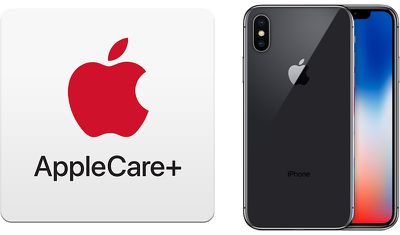 AppleCare+ is an optional, premium warranty plan that extends an iPhone's warranty coverage to two years from the original purchase date of the device, and adds up to two incidents of accidental damage coverage, each subject to a service fee of $29 for screen damage, or $99 for any other damage.
AppleCare+ for iPhone X costs $199 upfront, compared to $129 for the iPhone 8 and $149 for the iPhone 8 Plus. As with virtually any form of insurance, AppleCare+ only pays for itself in the event you accidentally damage your device.
To determine if AppleCare+ is worthwhile, we first must look at how much it will cost to repair the iPhone X without the coverage.


Apple recently confirmed it will charge out-of-warranty rates of $279 for iPhone X screen repairs, and $549 for any other damage to the device, unless it is a manufacturing defect covered by Apple's standard one-year limited warranty.
With AppleCare+ for iPhone X, the price of a repair would be the $199 upfront cost of the plan plus a $29 to $99 incidental fee.
If you shatter your iPhone X's screen once, for example, you would pay $279 out of warranty. With the upfront cost of AppleCare+ coupled with the screen repair incidental fee, you would pay $228, so purchasing the plan can save you money in the long run if an accident happens.
If you shatter your iPhone X's back glass, having AppleCare+ is even more worthwhile. Apple's flat rate is $549 for this type of damage, while the upfront cost of AppleCare+ coupled with a $99 incidental fee totals $298.
The chart below shows that AppleCare+ will save you money in the long run if you damage your iPhone X in any way just once in two years.


Even if you never damage your iPhone X, AppleCare+ has one additional perk that can be quite valuable: 24/7 priority access to Apple support advisors via phone or online chat for two years after your iPhone X's purchase date. Without it, iPhone users are covered by just 90 days of complimentary telephone support.
There is no one-size-fits-all answer as to whether AppleCare+ is worth it, as it very much depends on how careful you are. But given the iPhone X's out-of-warranty repair fees are quite high, it may be more worthwhile than ever.
AppleCare+ can be purchased through Apple's online or retail stores. If not purchased alongside the iPhone, it can be added within 60 days, pending a diagnostic test to ensure no damage has occurred in that time.
It's also worth noting that if you cancel your AppleCare+ plan before the two-year coverage period expires, you'll get a partial refund based on the percentage of unexpired coverage, minus the value of any service already provided. A cancellation fee of $25 or 10 percent of the pro-rata amount, whichever is less, applies.
All prices above are listed in U.S. dollars. AppleCare+ and Apple's out-of-warranty repair fees vary in other countries.