Apple Allowing iPhone Upgrade Program Customers to Get a 'Head Start' on iPhone X Upgrade
Starting on Monday, October 23, iPhone Upgrade Program customers will be able to get a "head start" on the iPhone X pre-order process by getting pre-approved for an iPhone Upgrade Program loan.
Apple started notifying customers about the option this morning through its website and via a notice in the Apple Store app.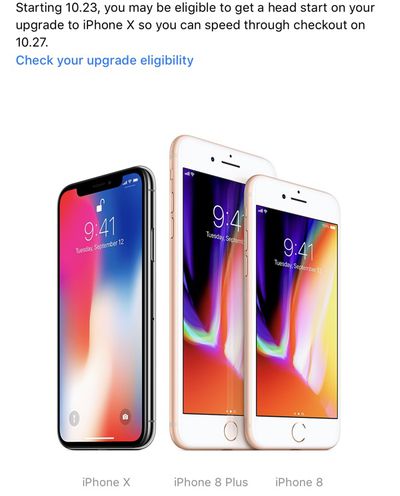 Customers will need to download the Apple Store app and choose their preferred iPhone X model to get pre-approved for a loan ahead of the launch of iPhone X pre-orders. Apple says this process, which was also offered for the iPhone 8 and 8 Plus, will let customers "speed through checkout on 10/27."
Once approved for a loan on a device, customers can use the Apple Store app when iPhone X pre-orders kick off to complete the purchase, making the pre-order process faster for iPhone Upgrade customers as no approval will need to be completed at the time orders are placed.
Apple's iPhone Upgrade Program is designed to allow customers to upgrade to a new iPhone after at least 12 payments have been made towards an existing iPhone. The Upgrade Program, which includes AppleCare+, requires customers to trade-in their current phones to get a new phone. Customers can choose to make payments for 24 months and keep their devices, however.
iPhone Upgrade Program members are able to use a Trade-in Kit this year to return their existing devices to Apple, alleviating the need to visit an Apple Store to purchase a new device.
Apple has made marked improvements to the iPhone Upgrade Program since last year. In 2016, new customers were forced to reserve an iPhone from a local Apple retail store due to in-store trade-in requirements, which left upgrade customers with limited stock to choose from.
A smooth and quick pre-order process for iPhone Upgrade customers will be important when it comes to the iPhone X, as rumors have suggested supplies are heavily constrained. It's likely available stock will sell out quickly, so it could be difficult to get an iPhone X for the remainder of the year.