Sonos One Reviews: Premium Sound Partners Well With Alexa, Although Voice Commands Limited at Launch
Earlier in October, Sonos announced its new smart speaker device, called the Sonos One, which will launch On October 24 with support for Amazon's Alexa voice assistant. The Sonos One allows users to control the speaker entirely through voice, providing smart speaker capabilities into a music-focused device, similar to Apple's marketing for the upcoming HomePod.
Ahead of the October 24 launch, reviews for the Sonos One have been posted online, with many sites giving the new speaker a favorable review thanks to Sonos' expected high-quality playback, which becomes particularly useful with Alexa controls. Still, those voice commands are limited at launch with only a few music services supporting Alexa, making the Sonos One slightly harder to recommend for users not already in the Amazon ecosystem.
Engadget said that the Sonos One provides "significantly better" music quality than the likes of Google Home and Amazon Echo "without breaking the bank" at $199. The site elaborated that the Sonos One uses the same audio hardware as the company's Play:1 speaker, so users can expect "clear, dynamic and loud sound" when playing music, although the "low end is not as strong as what you'll get from larger (and more expensive) speakers."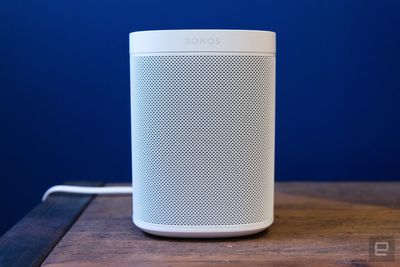 Engadget
wrapped up by noting that while the speaker stumbled occassionally with voice controls and lacks support for Spotify voice commands and Google Assistant at launch, it's still "the best-sounding smart speaker you can buy."
The Play:1 has been Sonos' best-selling speaker, and with good reason. It offers significantly better music quality than your average Bluetooth or smart speaker, at a reasonable price. It's also a great first step into a multi-speaker setup for your home. The Sonos One does all of that and adds voice controls without raising the price. Those voice controls may have a few bugs to work out, but aside from one frustrating afternoon, it worked well for me.

The Sonos One is a great way for most people to significantly upgrade their audio setup while also getting the convenience of voice controls. I wish that both Spotify voice commands and the Google Assistant were supported at launch, but this speaker will keep getting more features through upcoming software updates. Given that, I have no problem recommending it now. It'll work right out of the box as an Alexa-enabled device, it'll support more music services over time and it's a great way to dip your feet into the Sonos ecosystem. Just don't be surprised if you end up wanting to buy a few more.
The Verge broke down the supported music services on the Sonos One, commenting that voice commands at launch (through Alexa) are only supported with Pandora, Amazon Music, iHeartRadio, TuneIn, and SiriusXM. Spotify users will gain access "soon," but any Apple Music or Tidal subscribers will have to start playback through the Sonos app, and after that they can use Alexa to control the songs.

There are some early frustrations and missing features that prevent the Sonos One from being a perfect marriage between Sonos sound and Alexa's voice smarts. You can't yet play music from Spotify with Alexa, but I've been told that's coming "soon." Other services, such as Apple Music and Tidal, are absent with no ETA, and it's quite possible that they'll never support voice playback. They all work perfectly fine through the Sonos app, and once music is playing from any service, Alexa can always pause, skip tracks, adjust volume, or tell you what song or artist is playing. But the bottom line is that, at least for now, Alexa is unable to play anything from your Spotify library. Instead, you've got Pandora, Amazon Music, iHeartRadio, TuneIn, and SiriusXM to work with out of the box.
In 2018, Sonos One will also update with support for AirPlay 2, and then iOS users will be able to more easily control music playback with the speaker. While many interesting features are promised for future updates, The Verge still gave the speaker a score of 8 out of 10 and said, "Even with the Spotify situation factored in, I've found the Sonos One to be good enough in most other places to earn a solid recommendation if you're looking to spend a couple hundred bucks on an in-home speaker."
Like a few reviews, Wired mentioned a convoluted setup process that requires you to switch between the Alexa and Sonos apps multiple times, further pointing out that any device trying to seamlessly connect two ecosystems is "sure to stumble occasionally." Still, the site was a fan of the new speaker, stating that the "key point" of any Sonos product remains: "the One is a great-sounding Sonos speaker," and voice controls -- while limited -- are still a bonus.

This new $199 speaker takes the current Alexa-Sonos relationship and removes the complexity. You could think of it as an Echo with much improved sound. It does all of the Alexa things, but it's foremost a Sonos speaker, so it does all the Sonos things too—it works as part of a multi-room system, it streams from scores of services, and it obeys the company's controller apps. The One has some faults. Amazon world and Sonos world are two nuanced and complex domains, and any device that attempts to bridge the two is sure to stumble occasionally. But the key point remains: The One is a great-sounding Sonos speaker, and that's reason enough to consider one. It also so happens that you can command it with your voice.
Many reviews compared the Sonos One to Google's and Apple's upcoming products, which compete in the same high-quality music playback area but have noticeable differences in price. While the Sonos One will cost $199 when it launches next week, Apple's HomePod will run for $349, and the Google Home Max will be priced even higher at $399, with both latter products debuting in December. For more of the latest HomePod news and information, be sure to check out our HomePod Roundup.
More Sonos One reviews can be found at the following sites: The Independent, The Wall Street Journal, VentureBeat, Digital Trends, 9to5Mac, SlashGear, TechHive, and Mashable.